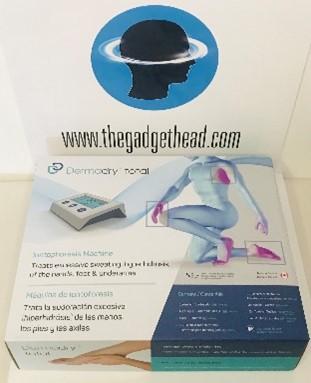 Dermadry Total
Product Link: https://dermadry.com/
RRP: £291
If you are a sweaty guy like me, then you will understand that it can be very repetitive when you have to constantly reapply deodorant over and over all day. And sometimes deodorant doesn't even work. On a hot day my palms drip sweat all over my laptop when I am trying to type. Gross, I know. But don't worry – if you're feeling overwhelmed and you feel like your sweating is getting out of control, this may mean you suffer from hyperhidrosis, and it is something that can be treated!
If deodorant and prescription drugs haven't helped you with your constant sweaty state, then you will be delighted to know that Dermadry have created a wonderful product that produces life changing results in the people that use it. The Dermadry Total is a device that can treat severe sweating, whether this is of your hands, feet, or underarms. The Dermadry Total is an iontophoresis machine. It is an incredibly simple, yet effective device that directs a small current through the hands, feet, or armpits. This current neutralizing the connection between your nerves and your sweat glands and therefore stops your sweating. Plenty of studies have confirmed that the machine works incredibly well and almost has a 100% success rate! The device is also backed by many certified dermatologists and plenty of satisfied customers, so you can have full faith in the treatment that you'd receive from the Dermadry Total.
The device is very easy to set up. Simply turn it on and choose from feet/hands/armpits, choose the strength of treatment, then press the activation button. Either place your hands/feet in the tray or put the pads under your armpits. Treatments only take 15-20 minutes and can work so well that they will be effective for up to 6 weeks.
Suffering from hyperhidrosis can be very stressful. Up to 5% of the population suffer from daily burdens that are caused by sweating. If you have sweaty hands then it can be very hard to use a computer, shaking hands can be very embarrassing, and you constantly have to wipes your palms dry. If you have sweaty feet, you may fear that people can always smell your feet, you may be scared to take off your shoes, or the sweating may even cause itching your rashes to occur if you are wearing shoes all day. Sweaty armpit again makes you very insecure due to the odours, sweat stains can be very embarrassing, and buying deodorant all the time can become rather dear.
All these problems can become history. The Dermadry Total works. It may be a costly one-time purchase, but you will reap the rewards of a sweat free future.
Rating: 4/5
Pros

Easy to use
Quick treatment
Very effective
Cons

Price