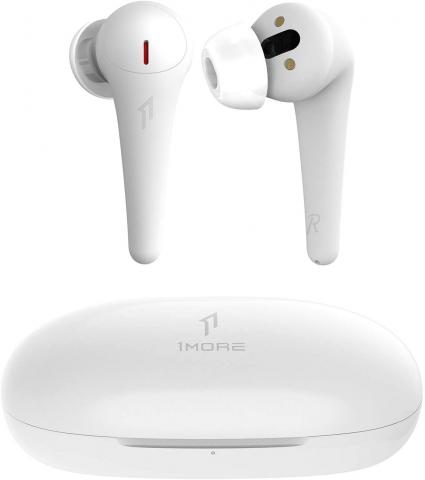 1MORE ComfoBuds Pro 
www.1moreuk.com 
£129.99 
 
With the number of earbuds we receive to review, I'm always looking for something that sets a product apart and makes me sit up. For 1MORE's ComfoBuds Pro, what leapt out at me was the involvement of four-time Grammy award winning sound engineer Luca Bignardi. However, this is just the icing on the cake, as these are a substantial, good-quality pair of buds all round. 
 
The buds are available in a classic black or white, or a dark 'Aurora Blue'. Apparently designed around the idea of melting metal, these buds look, to me, like an attractive if fairly standard version of this typical stemmed earbud shape. I tend not to favour stemmed earbuds, as I find them more likely to fall from my ears than some of the other common shapes, but these buds were also a good fit that didn't give me the trouble I usually get from ones like them. Judging from the name, it seems that comfort was a big part of their design, and it definitely comes across. 
 
But more importantly, how do they sound? Thanks to a 13.4 mm titanium composite dynamic driver, the sound is pleasantly balanced and delivers a lot of detail. I enjoy listening to film scores as much as anything else, and I find these are always a great way to test headphones' audio range. I also tend to listen to Billie Eilish to test depth, as her music will either sound fantastic or flat depending on whether you have good or bad speakers. These earbuds passed both tests. 
 
Earlier, I mentioned sound engineer Luca Bignardi. Big Luca, as he's sometimes known, has worked with a huge number of Italian music artists over the years. The guy knows sound mixing. So, I thought it was awesome when I saw that he worked with 1MORE to pre-program 22 EQ settings for different genres and preferences. You can select from these settings using the accompanying app to find the best way to enjoy your music, knowing that the settings you're using were put together by an expert who loves music. You can lock your selection, meaning it will apply to your earbuds until you change it again, whether or not you stay connected to the app in that time. 
Unfortunately, these settings are only available on the Aurora Blue version of the buds. I'm not sure why the feature isn't included in all three colour options: if you're interested in this bonus element, be careful and make sure you buy the blue. 
As well as having various EQ settings, these buds have multiple noise cancelling settings that allow you to pick the level of noise cancellation that you need. For example, if you're trying to get some work done in a noisy café, you might want higher noise cancellation than if you were out on the street and needing to keep an ear open for traffic. The different settings - strong, mild, pass-through and wind noise resistant modes - account for different types of noise, letting you pick the best setting for your situation. 
 
The stems on these headphones are useful for several reasons. Firstly, they hold the six total microphones that work together to pick up your voice clearly for phone calls, and secondly, they are a part of the earbuds' programable touch controls. For pausing and skipping tracks, answering calls etc., you can control your earbuds with single or double taps, or pinching the earbud stem. You can select which action you would like for each command, which I found a nice touch, as I could set it up to work in the way I felt was most intuitive.  
These buds have a fairly fast charge time, reaching 2 hours of charge after only 15 minutes, though of course, they can play for much longer. They have an IPX4 water and sweat resistance rating, which isn't the highest I've seen on earbuds, but is plenty sufficient for dealing with every-day levels of rain. They automatically pause when you remove them from your ears and resume when you put them back in, and will pair with your Bluetooth device the moment you open their box, which are both very convenient quality-of-life details. 
All in all, these are some great little buds that feel comfortable to wear and kick out a great sound. The blue ones in particular are well worth the buy, if you can get your hands on them. 
4.5/5 
 Pros: 
Secure, comfy fit 
Fast charging 
Clear microphone audio 
Well balanced output 
Adjustable noise cancellation 
Blue has 22 EQ settings 
Instant pairing 
IPX4 
Adjustable touch controls