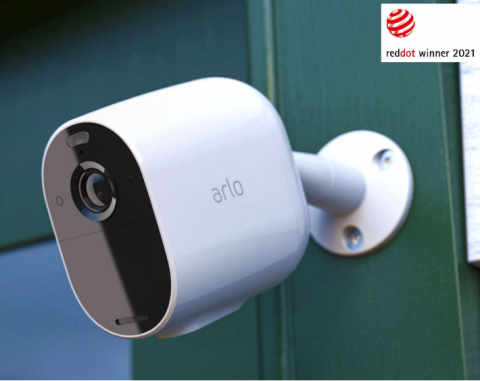 Arlo – Essential XL Spotlight Camera 
£129.99  
The ability to ensure the security of your home is a key priority for any homeowner. Arlo's Essential XL Spotlight Camera ensures this security in a way that is accessible and not too technical whilst still achieving high efficiency.  
From the get go, I found the Arlo Essential XL Spotlight Camera incredibly easy to use. Instead of having to faff around with electrics, the Arlo Essential XL is 100% wireless. Its battery life is also a year-long after just one charge. Additionally, the clamp that it comes with operates on a swivel, therefore you can position the camera in any way you like, maximizing the camera's visibility. This is further helped by the fact that it facilitates a 130-degree viewing camera angle. This extensively wide angle is rare if we compare the Arlo spotlight to others on the market at the moment, therefore you can rest assured that you have the largest proportion of your house covered. Further encouraging is the fact that it is small and compact, but still visible as you walk through the door. This means that it's small enough to not become an eye soar but still big enough to be a deterrent to any potential burglars.  
Another really useful and relatively unique feature is the Arlo Secure App that they suggest you download so that you can receive notifications if your camera picks up any motion, therefore you can always be on top of when your package has arrived. (Or you can even spy on your neighbour that won't stop knocking). However, I would recommend that when you set up the camera and connect to the Arlo App, do so in a place that is close to your Wi-Fi router, so that the camera and app can connect successfully. Once they are connected, however, you can place the camera wherever you want.  
Another really useful component is the 'Activity zones' feature, which let me pinpoint exactly where I wanted the camera to pick up motion. This was especially nice since I didn't get bombarded with notifications every time something walked past my house.  For example, I found that even when a cat did wander across one of the activity zones, the advanced AI technology used by the camera meant that I wasn't notified due to its ability to specifically identify people, packages, as well as other unwanted objects that may appear. The app is also useful for seeing any delivery people that you might miss whilst at work. With the two-way microphone (that can be used via the app) you can talk to the people at the door, ensuring that you are on top of any visitors. Additionally, any motion that the camera does pick is kept on a cloud, therefore you can easily look back at anything that you find as it's accessible for thirty days, and is captured in high definition. This meant that I received a really clear picture of who was at my door. This was achievable even at nighttime, as it (no surprises) comes with a sufficiently bright spotlight, keeping the house secure 24/7.  
Overall, the Arlo Essential Spotlight Security Camera will never fail you come whatever the weather or time of day. Plus, due to its advanced technological aspects, it can determine who is friend or foe, ensuring the important safety of my home.  
4.7/5 
Pros:  
Robust quality 
Easy to build and set up.  
Excellent image quality 
Long-life camera  
2-way microphone perfect for talking to visitors at the door.  
Set up of particular activity zones 
Reasonably priced in comparison to other security cameras 
Cons:  
The mobile app took a bit to understand.