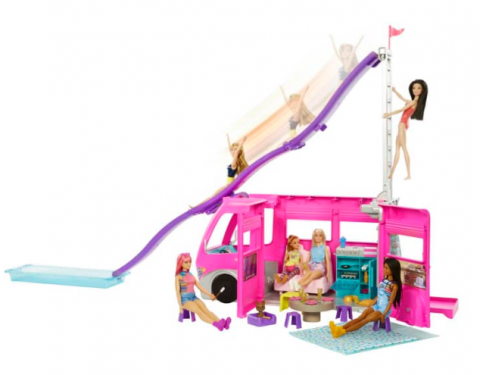 £114.99
As something as iconic and established as Barbie, it's impressive to see how their releases just keep getting bigger and better than ever before. Just by taking a glance at the new Barbie Dream Camper I was transported back to my childhood self, pedalling the Barbie around the carpet. Twenty years later, it seems that the car I once cherished has had a major upgrade!
This startling pink paradise is any kid's dream, and certainly stood out in the office. It wasn't long before I was tearing the box open and in turn, re-opening my own childhood imagination. One of the first things you notice is how expansive and large the toy is, which means you are definitely getting your money's worth with this stunner of a camper.
First and foremost, the sheer number of accessories and bits that come with the dream camper are really exciting. From a kitchen set to a dog toy and camp bed it really does let you live your barbie fantasies. Another thing that I was surprised to find is how many little nic-nacs the camper van has. From swivel chairs to a small toilet/shower unit at the back. (Not even Barbie can escape the camper shower experience), it really brings to life how diverse Barbie has become, as the Dream Camper lets Barbie escape the kitchen by including hiking equipment, thus opening the doors for Barbie and fully immersing them in wildlife with her pet companion.   It also comes with a pool that you can fill up and a tall slide, allowing Barbie to have a real good splash. This is the Dream Camper's key selling point, as the height is really something to marvel at.  
As you can also expect from Mattel, the toy is very sturdy and good quality, which makes it extra difficult for children to break anything. It also means that things like the slide can stand up easily on carpet or rug, which I've found can sometimes be a pain. The quality also shines through in the fact that the Barbie dolls actually fit and can slide down the slide, which provides ample amounts of fun.  The Dream Camper is therefore big and robust enough to provide fun for the whole family of Barbies – and the dog of course!
4.8/5 stars
Pros:
- very large and sturdy
- Vast number of accessories
- well thought out and realistic to camper life
- Big enough for all the other Barbies
Cons:
- some of the stickers included are fiddly for young children.