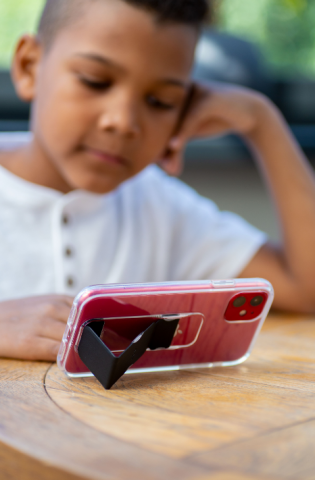 £12.99
There are currently many products on the market that advertise to be phone handles of some kind. However, many of these are often actually quite uncomfortable to hold and use, completely defeating the purpose. The CLCKR Stand and Grip is a step above many others out there. This is no surprise when we look at many other CLCKR products, that consistently demonstrate a sleek design and clever ways of making life just that little bit easier.
This particular product is a staple of the CLCKR range, as it is incredibly versatile, and by default super useful. In the period in which I used it, I found that it solved many problems I didn't even know I had. For example, I first used it to watch a workout video, usually I have to lean my phone up against the wall so it was too far away, and using a laptop is a pain in my small apartment. Later on, in the evening when my friends came round for drinks, it worked as a highly efficient stand for the self-timer pictures that we took. (We all know the struggle). Then the next morning, I used the stand again to simply talk to my family whilst sitting at the kitchen table. Even when using the Stand and Grip to hold my phone, my life was made easier, as the strap was really comfortable and my arm didn't ache when I was having a natter with my sister. The benefits of the Stand and Grip are literally endless.
Another great aspect is the fact it comes in a plethora of colours and patterns. This means that it can smoothly blend into your phone, or instead add a pop of colour. Its cunning design also means that it doesn't get caught in the pocket or in a small bag, and the stand itself can easily withstand lengthy conference calls.
The CLCKR Stand and Grip is currently also available as a phone case for both Android and iPhone devices, as well as a universal grip that can be placed on your favourite case. Its versatility is endless and a lot more comfortable than many others out there, would definitely recommend it.
5/5 stars
Pros:
- Sleek design
- An endless amount of uses
- Comes in lots of colours and patterns
- Comfortable handle
- Easily applied to the Phone
- Doesn't scratch easily
- Also comes as a phone case