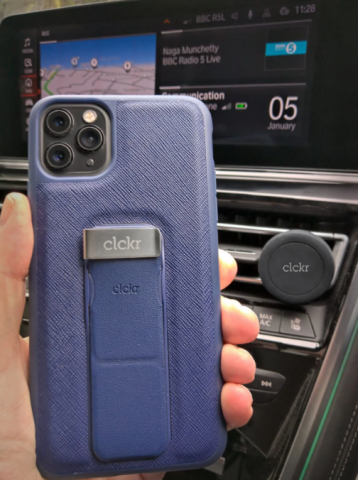 £14.99
When I saw that I was up to review the CLCKR phone mount I was really intrigued. Main reason being that I have struggled for a while to find a phone mount in the car that actually works and stays up. In my experience, anything mounted with one of those sucker things is useless after about five minutes. Scarred by previous experience, I was then intrigued to see how a magnet mount would hold up in the long run.
From appearance alone, the mount is very small and slick, which is a running theme with other CLCKR products we have reviewed. The package itself comes with the mount and a small phone clip that you use to attach your phone to the magnet. It works by sliding the clip on the CLCKR Stand & Grip, which then slides onto the AC vent in the car. At first, I wasn't sure if it would be strong enough to hold my phone due to how compact it is. My apprehensions were however alleviated when it robustly held my phone in place, making it a very small but powerful magnet!
Furthermore, the fact that it is relatively small is really useful for when you aren't mounting your phone, as it is small enough to not block the vents, particularly when they need to be working at full capacity to warm up the car in these Wintery months. It is also small enough to be portable and easily transferred to other cars. Also, you could place other items up like your keys, so they aren't lost in the depths of your bag.
4.9/5 stars
Pros:
- Powerful magnet that holds phone steadily in place
- Sleek and compact design that doesn't block vents
- Reasonably priced
Cons:
- Not really a con but you do need other CLCKR products for it to work!