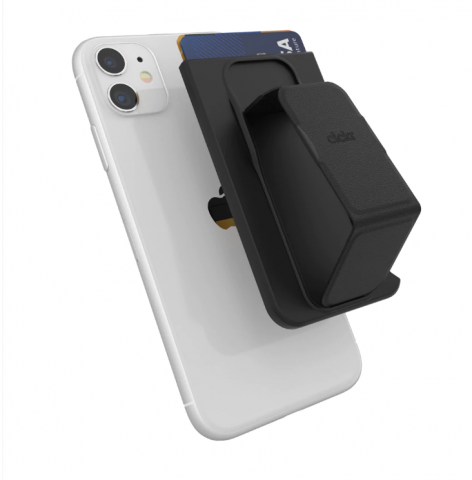 CLCKR Stand and Grip Wallet II
£19.99
Straight off the bat, the CLCKR Stand and Grip Wallet is an absolute stroke of genius if you tend to lose everything like me. I often just put my purse and phone in my pocket, which as you can imagine, has led to many a search around the house. With the Stand and Grip Wallet II, however, it means that all the things I need are in the same place. Especially since the chances of carrying cash these days are very slim.
Unlike many cardholders on mobiles that you see, this one includes a handle so that you can still hold your phone in a way that is comfortable and doesn't get in the way when you are trying to place your phone in your pocket. Its smoothness also means that it doesn't interfere with wireless charging. Handily enough, the grip can also be used as a stand in both portrait and landscape. When it is not being used as a stand or grip, it looks really sleek on your phone and doesn't stick out at all. This is a good feature for me as I have a black phone, so it really blends in. But even if you don't have a black phone its smooth design means that it still looks elegant and not out of place on any colour mobile.
When using the Stand and Grip Wallet II out and about, it was really useful to watch Netflix on the train. Even on the bumpy journey over to London, it effectively held my phone. (Even on those annoying tilted train tables). It also sufficiently held my cards in place without them slipping out at all, however, the only thing I would say is that I would've preferred if it could hold a couple more cards as it only has the capacity for two, and when I needed my card it was quite difficult to get them out. But that being said, I would rather they were overtly and safe, rather than slipping out and losing it.
Overall, the Stand & Grip Wallet II made my day a lot smoother as I had everything in one place, allowing me to finally overcome my clumsy tendencies!
4/5 stars
Pros:
- Sophisticated design
- It is an effective stand in both portrait and landscape mode
- Keeps everything in one place
Cons:
- Black is the only colour available
- Small capacity for cards