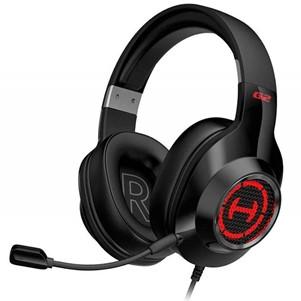 NEW EDIFIER G2 II GAMING HEADSET
£59.99
www.edifier.com
Let's face it – gamers get the best stuff. Computers, chairs, keyboards – the products available for their computer set-up sets the bar in quality in many cases. Like office furniture, gaming gear needs to set you up for a comfortable and high-spec experience for hours at a time, and when it comes to games, product designs are having fun with it. Over lockdown and my resulting Zoom-based experience, I've come to appreciate another of the many fantastic products made for games – good headsets.

A gaming headset needs to not only have excellent audio output, but also needs a clear mic so you can yell at the other players in your campaign. This also makes them great headphones for video calls, streaming on Twitch, filming for YouTube, recording audio for a podcast etc. Basically, any of the digitally based ways people have been spending their time could use a set of good headphones. So, we took a look at the new G2 II Gaming Headset from Edifier® International.

We have reviewed several makes of headphone from Edifier in the past, and we haven't been disappointed. I've got to say, I loved them.

I'm not much of a gamer, but to give this headset a proper test, I shelved The Sims for a minute and blew the metaphorical dust off of my Monster Hunter: World account. It was fantastic! The noise cancelling microphone meant the other players could hear me clearly despite my puppy dropping his toys against our wooden floors. I was impressed to find that this mic was detachable, forming a 6mm electret condenser mic, to better enable you to position it wherever you need to get the best audio quality. Again, this makes this set amazing for if you're planning to stream your gameplay on a platform like Twitch.

As for the audio output, it was clear and immersive, with great bass and lots of detail. This is partially thanks to the set's next-gen 50mm composite diaphragm, but the biggest boost to immersion had to be the full 360° surround sound effects. This manages to play audio to you in such a way that you get a sense of where everyone and everything is in relation to you, which is REALLY useful during combat, and seriously cool to experience.
I was a fan of the black and red design for this headset, but if that's not your thing, Edifier has headsets with looks that will suit all tastes. It has the typical glowy lights that all gaming gear seems to think it needs, but that was a fun touch, and most importantly, it was very comfortable to wear.
5/5
 
Pros:
7.1 surround sound offering 360° sound positioning

50mm driver unit

Excellent sound quality

Noise-cancelling detachable mic

Comfortable