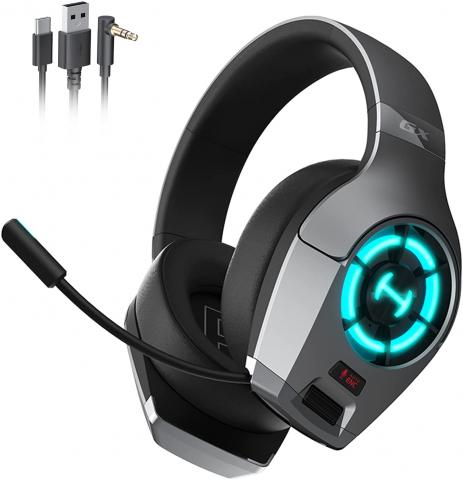 Edifier GX 
www.edifier.com 
£89.99 
 
The GX from Edifier is the company's latest item in gaming headsets. We previously reviewed the G2 II and were extremely impressed, so we couldn't wait to see how Edifier had attempted to improve on that experience. 
Like the G2II, this set of headphones is extremely comfortable to wear, which is important if you're locking in for a long gaming session. In fact, they were not only comfortable and well-padded, but surprisingly breathable, which again, is essential if you're getting ready for a long gaming stint. 
 
As for sound quality, these headphones managed to take things to another level. They blocked out the sounds from the room wonderfully, and the sound they provide was full, rich and immersive. Both these and the G2IIs use a 50mm driver unit to produce that high-quality sound, but in the case of the GX, Edifier is using a new titanium driver technology that we haven't benefited from before, and it makes an audible difference. This driver has Hi-Res audio certification and 96KHz/24-bit high resolution decoding transmission, resulting in a clear and full soundscape that pulls you right into the game. 
On the topic of audio clarity, when you're playing online, it's just as important that your output sound is clear, so your teammates can hear what panicked commands or cries for aid you're yelling at them. That's why the GX's microphone uses ENC dual mic noise cancellation, which actively cuts out the sounds from around the room that you don't need your teammates to hear. 
 
A detail that I appreciate about these headphones is how easy they are to use. You can switch between gaming and music mode easily, as well as turning the LED lights on or off with a simple tap. Gaming gear tends to come with some awesome LED lightshows, but sometimes, it's nice to be able to turn these off. I'm quite light sensitive, and sometimes, the fewer things glowing at and around me, the better – but that doesn't mean I don't want the option of the lights! How else do you know your gear is cooler than your friend's? 
 
Speaking of, these headphones have a futuristic, awesome design that's perfect for if you're a sci fi gamer in particular. I love their robotic, spaceship-console type shape and LEDs. 
These headphones have Type-C, USB and 3.5mm interfaces, meaning you can use these headphones with pretty much any computer or device.  
 
5/5 
 
Easy controls 
Great sound 
New 50mm titanium diaphragm drivers 
96kHz/24bits decoding 
96kHz/24bits decoding 
Comfortable and breathable 
Three interface types