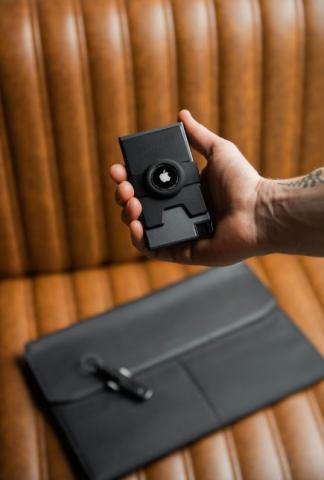 Ekster Aluminium Cardholder for AirTag
Starting from $71.
Losing my wallet is practically a daily occurrence at this point, therefore I was thrilled to find out I would be able to review the Ekster Alluminuim AirTag Wallet, as it made my day ten times less stressful. Like many other Ekster products, the Aluminium AirTag Wallet holds an air of sophistication, due to its brilliant quality and expert finish.
Furthermore, its slim and compact dimensions mean that it can discreetly fit into your pocket (even the front ones) without being noticed. This means that your cards are safely stored away. In the highly unfortunate event that your wallet is stolen, or you even happen to lose it, it has a space specifically for an AirTag. This means that Wallet is more than prepared to be returned to you to ensure the greatest safety.
On a practical level, when I was using the wallet out and about I found it to be really functional, especially when it allows you to use your card in contactless payment without taking it out of your wallet. However, this does mean you have to be careful as to what card is being scanned. Furthermore, its card ejection mechanism meant that I could find the exact card I wanted so much easier than normal. On the other hand, one thing I would caution about is that the cash is held in by a thin strap, which wasn't great at holding a couple of notes in, so it did slip out. Personally, I would have preferred a small pocket to put cash in to make it more secure. However, as the world transitions away from cash payments, this becomes an increasingly smaller issue.
Although the Aluminium AirTag Wallet is not available in as many colours as other Ekster products, it does come in Graphite and Nappa Black. This is fairly standard, but it does lend well to the quality leather that the wallet is made from, making it a quality product.
4.8/ 5 stars.
Pros:
- Can be easily found.
- Ability to scan.
- Slim and compact
- Can fit into the front pocket of jeans.
Cons:
- Only available in two colours, unlike other products.
- Cash slips out.