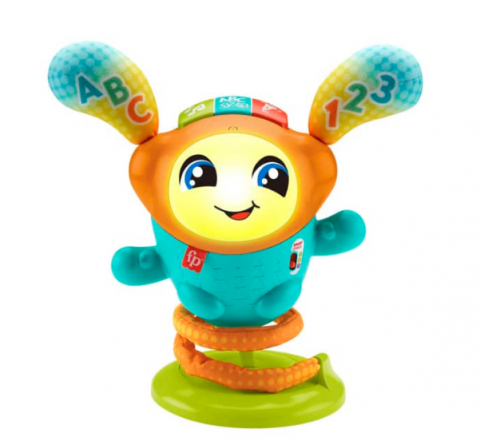 Fisher Price DJ Bouncing Beats
£44.99
As a widely established child's toy company, Fisher Price's latest release of the DJ Bouncing Beats not only provides hours of musical fun for your child, but it also comes with an educational twist. On first look, the DJ Bouncing Beats is much like many other toys on the market; colourful, doe-eyed, and incredibly bouncy. And yet with the DJ Bouncy Beats, the kids will learn many things like counting, the alphabet, and copying sounds and actions, making it unique and a brilliant gift for any child.
Most importantly, the bouncing companion provides hours of fun for your child, as it is really interactive with a high-quality spring bottom that helps the creature bop about to the music. The flashing springy ears and light-up face also provide more stimulation, acting as the perfect companion to dance around with. The base that the spring and toy sits on is sturdy enough to make the toy stay in place and not roll about, which makes it appear more animated.
The singing and recording feature on the toy is really fun as it lets your child record their voice and puts it to music. This is a simple but super effective feature as it encourages the little tigers to show off their singing voice whilst still dancing to some really cute songs. The big colourful buttons are brilliant for slipping in some phonics lessons whilst having a dance around the living room. The buttons are also big enough for your child to press them independently and choose what they want to do, whilst still encouraging fine motor skills and exploration of movement. It also has the option to change the difficulty of the alphabet and counting lessons, this is brilliant as it brings some longevity to the toy and ensures that your child progresses.
Overall, I would definitely recommend the DJ Bouncing Beats as it provides a wide range of fun that brings life to your living room and encourages a spring in your child's step. So much so that even I couldn't help but tap my foot to it…
Pros:
- Fun and educational
- Plays a range of over 75 songs
- Comes with batteries
- Robus and good quality
- Colourful and inviting that stops boredom
5/5 stars