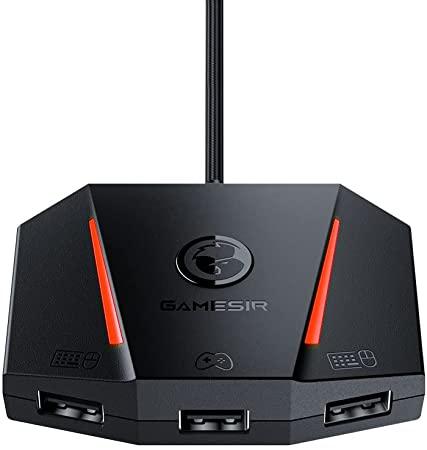 GameSir VX2 AimBox Console Keyboard & Mouse Adapter
$59.99
www.gamesir.hk
Own a game on console, but want to play with a mouse and keyboard? Hoist that console onto your PC gamer-space and plug it in to the GameSir VX2 AimBox. In other GameSir products, we've seen the way to play non-console games with a console-style controller, and now, the tables have turned.
The bane of any gamer's existence (or, one of the banes, depending who you ask) has got to be finding the sweet-spot of what you want between different platforms. Perhaps your computer doesn't have the specs to run the games you want, and you'd rather not upgrade when you have a perfectly capable console to hand, or you went and downloaded a game on your account and don't want to buy it again - and yet, you can't shift the thought as you play that you'd much rather be using a keyboard and mouse.
We all prefer what we're used to - especially when it comes to a pastime that relies on muscle memory and fast reflexes. You're going to want to play your games in whatever way leaves you feeling as though you have the most control over your combat and movement. If that means a keyboard and mouse, then you need the AimBox.
The AimBox VX2 improves upon GameSir's original AimBox VX by including a 3.5mm audio jack (very useful if you want to play without annoying your housemates) and PS5 game support. It also improves upon gaming accuracy using advanced agility translator technology: I didn't experience any lag at all between my commands and my movements on screen, despite the extra processes the commands are having to go through to translate into the game. 
Even better, the GameSir App that comes with the AimBox VX2 allows you to customise your control settings: after all, every game may need something a little different, and you're going to want the translation between keyboard & mouse and console commands to make sense to you. Games let you edit your commands as it is, so being able to tweak how this is translated through the VX2 is extremely helpful.
A final detail that I appreciated is that the AimBox VX2 is compatible with both wired and wireless mouse and keyboard, and it has rubber feet to give it extra grip, which is helpful if you're used a wired mouse and might be inclined to whip it around a little too vigorously!
All in all, this is an awesome purchase that really frees up your ability to play games your way. (If you're interested in the flip-side of this arrangement and want to play from PC to console, check out our review of the [T4 Mini])
5/5
Pros:
Compatible with Xbox One, Xbox Series X/S, PlayStation 4, PlayStation 5, Nintendo Switch
Wireless or wired mouse and keyboard
1:1 movement accuracy
Fine-tune settings with app
Reversible USB slots