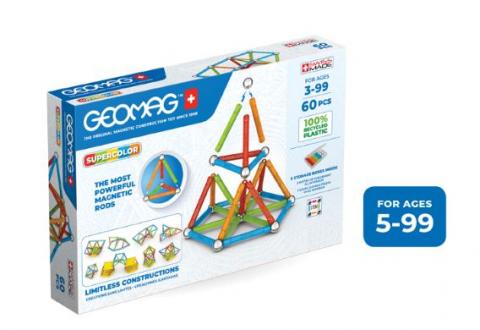 £26.29
With just multi-coloured magnetics and metal spheres, Geomag has managed to create hours of entertainment, that is not only creative, but educational at the same time. This simple but highly effective 60-piece set is limitless in what your child can do with it, as a whole world of shapes and creations can be made. This makes the perfect gift for any child, as the willingness to want to build and construct is a big part of childhood development and human instinct. Even if it is a gift for the kids, adults will also be able to enjoy, as there are limitless shapes and builds to create. So much so, that I found it to be a good way to destress during the day and spark my imagination.
The pieces are very simple to use, as you connect the round spheres to the magnetic rods. Over time this can build to become big and complex geometric shapes, testing your brain. This would be great for children as it allows them to develop their fine motor skills, creating 2D and 3D shapes. This is in keeping with Geomag's ethos of 'Learning By Playing', promoting the use of Geomag in schools across the world as it is specially designed for educational purposes. Therefore, with the Geomag Supercolour you can be sure that your child is making the most of their playtime.
Admittedly, I was slightly apprehensive that with children around, all the small pieces would get lost. However, Geomag helpfully supplies three storage boxes that perfectly fit all the magnets and metal balls. This is perfect for travelling with the set, especially for parents with young children, as it means that entertainment is always on hand. Another great feature of the Geomag is that the set and the storage boxes are 100% recyclable. Again, this is a great focus for Geomag, as they are trying to lessen their environmental footprint throughout all their products. Therefore, by making small changes to the product, you can be sure that you are eco-conscious. This also helps teach the young ones the importance of thinking green.
The Geomag Supercolour makes a perfect gift for children with a budding imagination as it is thought-provoking and deliciously simple, bringing education and entertainment all in one! Like many of Geomag's products, you can also be assured that you are being environmentally friendly at the same time.
4/5 stars.
Pros:
- Really simple for all ages to enjoy.
- Comes with storage boxes.
- Made with 100% recyclable materials.
- Educational and fun!