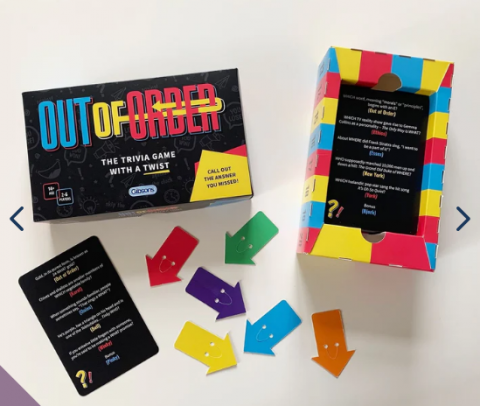 Gibsons Out of Order Trivia Party Game
£17.00
Having reviewed many of Gibsons products, this is one of my favourites as it makes you think but is also so easy to mess up that you end all laughing at each other. Once again, we witness Gibsons games taking a simple game, and making it tens times funnier with many twists and turns.  On this occasion, what was once a simple trivia quiz, has now become a game full of laughs and mayhem.
The instructions for Out of Order are simple, answer the questions to win the game. Sounds easy? Well, with this game the twist comes when you must give always give the previous questions answer, no matter what happens. This means that you have to answer the questions (you guessed it) out of order. I played this game with my friends before we went out and it quickly descended into chaos, making it brilliant fun for a party game or something fun to do on the weekends. Furthermore, a friend of mine who usually hates board games loved it, as you are not simply chasing someone around a board but trying to catch out your friends and testing brain power.
The game doesn't come with a board, therefore, you keep track of whose winning by placing arrows on the upside of the box. This allows the game to be very compact and easy to carry, so it's perfect to take with you when travelling, whether it be on long car rides or around the campfire with some marshmallows. Its designs also hark back to more traditional trivia games, but with a colourful pop to match the exciting twist that they have bought in.
Another small but vitally important element is the fact the game is made completely plastic free! This is a great advancement in making the toys and games industry more sustainable. Plus, you know that when you are playing the game, you are doing your bit for the planet at the same time.
4.9/5 stars
Pros:
- A new twist on an old classic
- Compact size and lack of board so can travel easily
- Bright and colourful design
- Simple but fun playing
- Environmentally friendly
- Great for a party atmosphere
Cons:
- Can only have up to 6 players