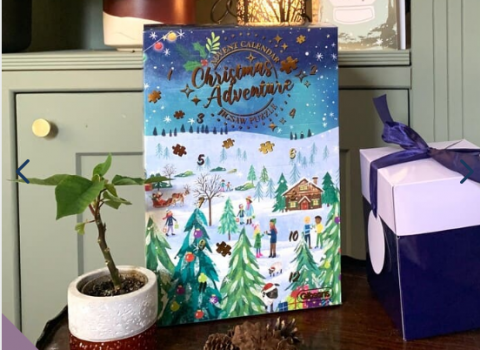 Gibsons Christmas Adventure Advent Calendar
£35.00
For as long as I can remember, the slow opening of the advent calendar was one of the most exciting parts of Christmas. As each tiny door opened, you knew you were one day closer to that glorious day of carols, Christmas dinner and lots of gifts. It is for this reason that many are thinking of new ways to make the advent period even more exciting as we approach that joyful time once again.
This is certainly something that Gibsons Games has achieved once again with their best-seller Jigsaw Advent calendar. Gibson Games has managed to make the festive countdown even more fun by including a puzzle surprise in each door. This is a unique and very novel idea that means that the kids won't completely fill up on chocolate, and can instead begin to construct a quaint Christmas scene, providing 24 different adventures, adding to the magic of Christmas. The pictures themselves are really cute and enchanting, from sheep in Santa hats, to elves delivering presents under the stars. It's almost like bringing a Christmas card to life, slowly adding to the joyful tale. Even more charming is the gold foil packaging that the advent calendar comes in, making the whole experience even more magical.
Each piece is beautifully designed by illustrator Claire McElfatrick. (What a Christmas coincidence!) Subsequently, a really wholesome image can be created and can be fun for not only the kids, but also the rest of the family. Furthermore, unlike many chocolate advent calendars, (where each piece disappears in about five seconds) each door reveals a tale that can be kept for the rest of the festive season, and sparks your child's imagination.
The Christmas Adventure Advent Calendar would make a brilliant gift for all the family in the run-up to Christmas, as it definitely brought in a little festive touch to my so far non-Christmassy living room and ignited my inner child. Therefore, there is no doubt that any child would love to come up with their own little adventure in the run-up to the most wonderful time of the year!
4.9/5 stars
Pros:
- Lasts longer than most advent calendars
- Beautiful illustrations
- A wide range of puzzles included
- Adds a festive touch to your home
- Festive packaging
- Can be used to make Christmas decorations once it's all finished
Cons:
- could potentially be a choking hazard for really young children