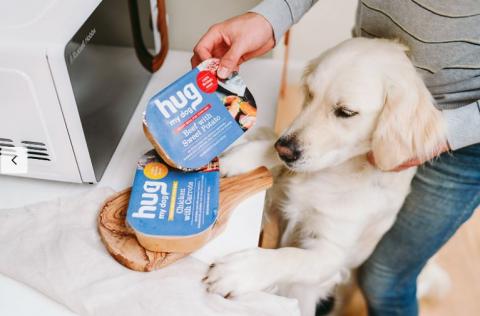 Hug Pet Food – Ready Adult Dog Meals
£3.31 - £6.00 per meal.
I've sometimes wondered if my dogs get bored of their food. It must get so monotonous having the same food, at the same time every day, same flavour and texture. Personally, it sounds like torture to me. However, Hug Pet Food has come to the rescue for all the bored dogs out there sick of their crunch and canned meat!! Being the first of its kind, they can offer you frozen ready meals for your dog, with fresh ingredients that guarantee better nutrition and fresher poos. This means that as their obedient walker, you can look forward to a better experience next time you grab for the doggy bag.
Although this a product which is slightly different to what we usually do at Gadgethead, the idea of a ready meal for your dogs was just something that we couldn't resist. From the get-go, Hug promises quality ingredients so that your dogs get only the best meat and veg, including beef fillet, salmon fillet, and pork loin. Especially since they offer a wide variety of flavours such as, chicken with carrots, pork with apple, and salmon and veg, all packaged up in a container very similar to the ready meals that you would buy for yourself. The meals arrived in a pack of six, in a really well-insulated box that ensures that the meals stay frozen and of the best quality for your pet. Therefore, I was really impressed when they arrived still frozen, with numerous freezer packs.
Similar to our microwave meals, you simply pierce the top and shove it in the microwave. However, it must be noted that it takes eight minutes to cook. On top of this, you must also wait for it to cool down so that it is suitable for them to eat, which can take a while. This means that the whole process takes about 15 minutes which is obviously longer than usual. Another contrast to usual dog food, is the smell of it in the microwave. Although it uses what is usually considered human ingredients, it wasn't quite like a human meal that invited you to eat it. Rather, it gave off an unpleasant odour that reminded you it was dog food. However, this soon disappeared once it was done cooking and was simply a consequence of the quality ingredients.
Now down to the food itself! The bottom line is my dogs loved it, woofing it down in seconds. Although my two Labradors would effectively eat anything, I had never seen them eat food that quickly before. My first thought when I saw the packaging is that it would be too rich for them, especially with such high-quality ingredients. However, they were completely fine, which is a surprise to me as they typically have sensitive stomachs. Again, it does what it says on the tin as their poos were in fact definitely more solid, which certainly makes for a nicer experience when taking them for a walk. So that's definitely a plus, however, such good quality and results definitely comes at a price. As you may expect from nutritious ingredients, it is more costly than the usual dog food. However, to balance this out in future I may combine each meal with some crunch, to make them last longer as well as provide some extra texture. In fact, Hug recommends that you give your dogs a transitionary period and ween them on to the food by mixing it with crunch, so this would definitely be a solution to the price.
Ultimately, I would definitely recommend if you wanted to give your dog a quality meal, that is tasty and nutritious, giving your pooch a luxury poo.
4.5 / 5 stars.
Pros:
- Available in a variety of flavours and portion sizes.
- Quality and tasty ingredients.
- Liked by dogs!
- Impressive, insulated packaging that keeps it frozen.
- Does good for their digestive system.
- Cat food also available.
Cons:
- Takes longer than usual as you have to wait for it to cool down.
- Strong smell when cooking.
- Quality costs.