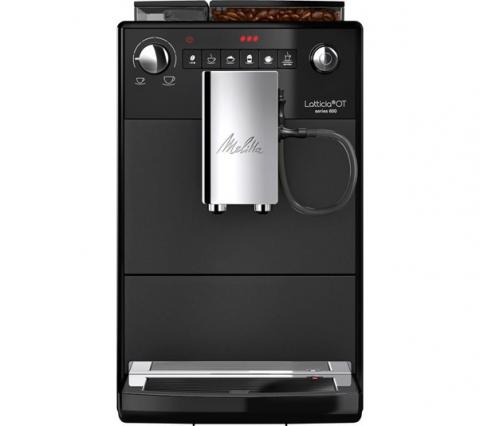 MELITTA Series 600 Latticia OT  RRP £549.99
www.melitta.co.uk
When I need a good cup of coffee, I'm probably either tired, deep in the middle of some work or having a peaceful, relaxing kind of day. In none of those situations do I want a deafening load of noise to prep my drink! The Series 600 Latticia OT from MELITTA is a bean-to-cup machine that makes your drinks extremely quietly, which means it instantly became my best friend. Given that I often wake up for work several hours before the rest of my household, it became everyone else's best friend, too.
Of course, whilst silence may be golden, it isn't everything – when it comes to coffee machines, the gold I'm most interested in is the stuff in my cup. That's why, like many good MELITTA offerings, this machine gives you the ability to adjust both the strength and grind of your coffee. I enjoyed the trial-and-error system of exploring these different options and finding the perfect settings for my taste. And, of course, as any serious coffeeista will know, this might change again from one type of bean to another. If you've gone down to your local hipster dispensary and picked out a new flavour to try, give these adjustments another go until you've found your new sweet-spot.

As well as these more granular adjustments (no pun intended), to pour the drink itself, you select from four drink types (cafe crème, cappuccino, espresso and latte macchiato, plus extra milk foam, all helpfully labelled with cute little pictures!) and six drink sizes. A giant latte, please! Speaking of giant, the bean and water compartments are huge compared to a lot of machines (taking up to 1.5 litres of water and 250g of beans), which means you won't have to refill them too often. Phew, because when I need a coffee, the last thing I want to do is think.

I may be caffeine-fuelled, but I'm as lazy as I am busy, so another feature I massively appreciate is that this machine has automatic cleaning and descaling capabilities. Yes, please! This isn't a cheap machine, so I'm very glad I won't ruin it from lack of care. Maintaining the Series 600 Latticia is easy enough that even I'll do it. In that vein, the body is made from an anti-scratch material, so as well as taking care of its internal workings, it's hard for its external body to get scuffed.

Like with coffee itself, you get what you pay for. If you're invested in some good beans, there's no point pouring them into a subpar machine. MELITTA never see us wrong, and this is another fantastic model to consider.
5/5

Pros:
Extremely quiet
Whole bean
Highly adjustable
Easy to use
Self-cleans
Doesn't scratch
Large water tank and bean dispenser