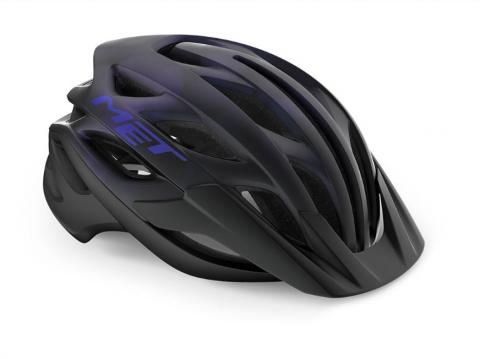 MET Veleno MIPS Mountain Bike Helmet
£120
Italy is well known for its fantastic range of food, iconic range of cars, and beautiful coastlines. Well, now there is something else to add to the list: mountain bike helmets. That's right, the Veleno MIPS Mountain Bike Helmet is much more than just a cycling helmet but is a vital piece of equipment as you race across the countryside. The Veleno helmet uses an Italian design, with adventure, speed, and safety in mind, to create a comfortable, stylish and secure cycling experience.
Despite its branding as a mountain bike helmet, the Veleno can boast great versatility. Due to its many features, it's great for a casual ride around your local area or braving the slopes. Although its outer shell was made with mountain biking as the most extreme case, it is also capable of keeping you protected on gravel and tarmac services. When wearing the helmet out on a ride, it felt really light but still secure and firm around my head, so I felt sufficiently protected, with extended head coverage and MIPS-C2 Brain Protection, so you can feel comfortable and safe.
The 360 adjustable head belt on the helmet also meant that I could adjust it to fit my head comfortably, without it digging in at all. It also offered great breathability, which I particularly liked. As the weather begins to get better in the Spring sunshine, there is a greater chance of feeling sweaty and suffocated when wearing a helmet for a long time. Thanks to the air-vent-like design, however, (possessing 26 vents) I kept cool throughout my cycle on different terrains.
The helmet also has an aerodynamic shape, making you look the part whilst out on the bike (even if you're not feeling it), with a good-looking design. Another great feature is the fact that the sun visor on the helmet is small and removable. This a great touch as some cyclists prefer not to have visors, although I personally quite like them, so it's good to have the option. Additionally, if it does get really sunny, they have a sunglasses port to store your shades whilst you're climbing or descending.
The MET Veleno is available in bronze, deep purple, olive iridescent, teal blue, titanium, white grey, black, and red, with a matte or metallic finish. Furthermore, the helmet is available in three different sizes and weights, so there's a helmet out there for everybody. Therefore, the MET Veleno MIPS Helmet is perfect for seasoned professional cyclists, or those who are just testing out new wheels.
Pros:
- Stylish.
- Soft padding.
- Meets safety specifications.
- Versatility for riders of any experience.
- Aerodynamic shape.
- Adjustable head belt.
- Breathability using 26 vents areas.
- Available in a wide range of colours.
- Removable sun visor.