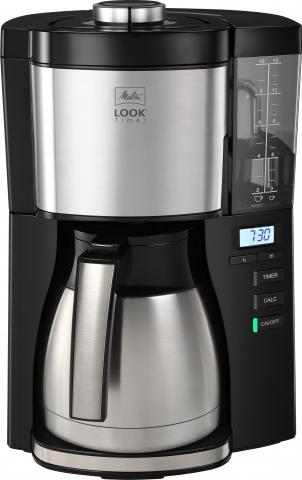 £124.99
Here at Gadgethead we have reviewed many a Melitta product over the years.  We have always found that they deliver on their promise for fresh and proper coffee. As expected, the latest release of the LOOK® V Therm Timer does not disappoint in its simple but effective coffee making.  
Once again Melitta has reached the goal of a lovely and steaming cup of coffee. If you're like me and you prefer the simpler things in life, then this coffee machine is for you. It's clear and easy to use method means that you can get a great cup of coffee without all the frills and faff of other coffee machines. Simply press a couple of buttons and you're away. 
The size is also really good as I have a small kitchen and therefore don't have room for a large machine - so the compact nature of it means that it fits right in. The steel hardware of the machine also means that it is really robust. This is further helped by the handy 3 in 1 limescale protection system making it even more efficient. However, the one drawback of the this is that stainless can get dirty and smear quite easily, so to keep it spotless took a bit more than glass. This is only a minor inconvenience and wasn't too much hassle over all.  
What's more, the unbreakable double-walled stainless steel insulated jug (with a convenient Easy Click lid feature), allows for the coffee to be kept warm for a long time and is more or less unbreakable. This is a big plus in comparison to other filter machines, as 99% of them have glass instead of metal, therefore losing heat a lot quicker.
It also has a practical timer feature with LED display allowing for coffee enjoyment when you want it. The appliance switches on automatically at the same time you set whilst the AromaSelector lets you choose how you want your coffee brewed with just one touch. This means you can enjoy your coffee mild or strong without having to make water adjustments.
Overall, I found the LOOK® V Therm Timer made a really nice cup of coffee, being simple but highly effective. Also, in comparison to others on the market, it is really well-priced. Would highly recommend! 
The LOOK® V Therm Timer is available via Harts of Stur in black or white.
4.9 / 5 stars.  
Pros:  
- Compact size  
- Easy to clean  
- Insulated coffee for a long time 
- Very reasonable price 
- Available in black or white
Cons:  
- Stainless steel can smear easily