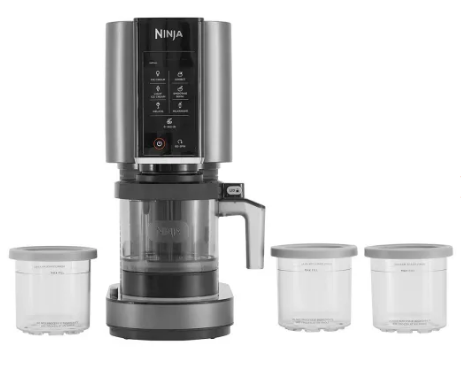 Ninja CREAMi Ice Cream Maker & Frozen Dessert Maker NC300UK
£179.99 (RRP £199.99)
I was incredibly excited when I heard that Gadget Head received the Ninja CREAMi Ice Cream Maker to review. Even though summer has now sadly drawn to a close, I still love to curl up on the sofa with a big spoon and a tub of my favourite flavour. (Mint chocolate chip obviously) Therefore, as one of my favourite sweet treats, the idea of having endless amounts of delicious ice cream was something that sounded heavenly.
First and foremost, the Ninja Ice Cream Maker makes the most delicious ice cream I have had for a long time. Not only was it easy to make, but it also had a really smooth and creamy texture. For those of us who have attempted to make homemade ice cream before, we can all agree that the texture is never quite right despite how hard we try. With the Ninja Ice Cream Maker, however, it tasted like I had bought it straight from the parlour, but within the comfort of my own kitchen.
If unlike me, not everybody wants ice cream throughout the Winter, the Ninja Ice Cream Maker has many other food options available for you to try. Such as thick and tasty milkshakes that aren't as heavy as ice cream but still really delish. Another brilliant feature is the option to make 'light' ice creams or sorbets. This is good if you are trying to slim down in the run-up to Christmas or you're not quite in the mood for something as rich as ice cream. Therefore, the Ninja Ice Cream Maker provides lots of tasty options for many to enjoy.
As I was making the ice cream, it struck me how much it actually makes. Due to the size of the cylinder, you are able approx. make 1.4 litres which meant that I could keep it for a while afterwards. This was also made easier by the fact it came with three pots, which means you can separate it out into quantities or if you wanted to make various flavours at once!
The ice cream-making machine itself looks really sleek, with silver hardware so that it blends seamlessly into the rest of the kitchen. The machine was also a lot smaller than I expected, so it can easily fit into the cupboard and be tucked away when you're not using it. When making the actual ice cream, it was also really simple to assemble, with only a couple of components to it. This also makes it really easy to clean or put in the dishwasher too.
Another handy thing that it comes with is a recipe guide. I found this a nice bonus because it suggests loads of interesting and dynamic flavours that I wouldn't usually reach for on the shelves, alongside a lot of the old favourites. It also includes a lot of 'mix-in' options, which lets you create even moreee flavours. (My personal favourite was 'Death by Chocolate' – it was as good as it sounds.)
Overall, the Ninja Ice cream encourages you to push the boundaries of ice cream flavours and is great fun treat for all your friends and family. Best of all is the fact there is tonnes of ice cream at the end of it. Yummy!
5/5
Pros:
Easy to assemble and make
Comes with clear instructions
Provides a recipe book with lots of fun ideas
Con:
You have to wait 24 hours instead of eating it straight away!!