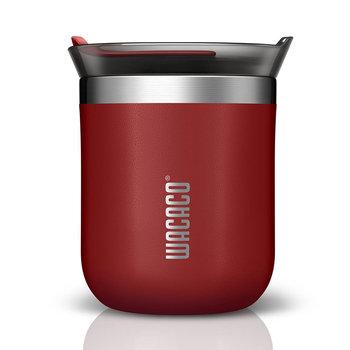 Octaroma Classico 180ml 
www.wacaco.com 
£18.90 exc.VAT 
 
Whether you're heading camping, getting ready for your morning commute or simply saving disposal coffee cups, it's helpful to have a vacuum-insulated mug to hand. The Octaroma range from Wacaco are a reliable answer to this need: you only have to hold it to feel that it's a sturdy cut above your average travel cup. It feels hardier – its double-wall stainless steel body means you could drop this from a height, and not only would it not break, but the lid would stay securely on and your drink would be safe. The cup is also very grippable, making drops less likely to occur in the first place. Whilst it looks cylindrical at a glance, this round-seeming cup actually has straight sides that make it more secure to hold. 
The lid unscrews easily, but that thing isn't going to shake loose for anybody. It's also leak-proof, not only in its edges where it screws in, but at the point where you can drink, pour or let out steam from, which is cappable with a silicone cap. 
We received our Octaroma Classico in Carmine Red, but it's also available in Amber Yellow, Pomona Green, Cadet Blue or Dim Grey. As well as the 'Classico' 180ml size, there is also a 'Lungo' 300ml and 'Grande' 435ml size in each colour option. Every colour option was gorgeous: they're very rich and deep colours that struck me as modern and attractive, rather than being too bright or basic. 
One touch I appreciated in this cup is that beverages didn't have that 'thermos smell' when you drank them – they still tasted and smelt as they should. 
 
Be aware that this cup isn't microwavable (due to those double walls of steel!) and also shouldn't be put through the dishwasher. Take care of it, and it'll take care of you. 

5/5
 
Pros: 
Vacuum sealed 
Preserves temperature and flavour 
Non-drip 
Hardy construction 
Secure lid 
Easy grip 
One of three available sizes 
Appealing colour options