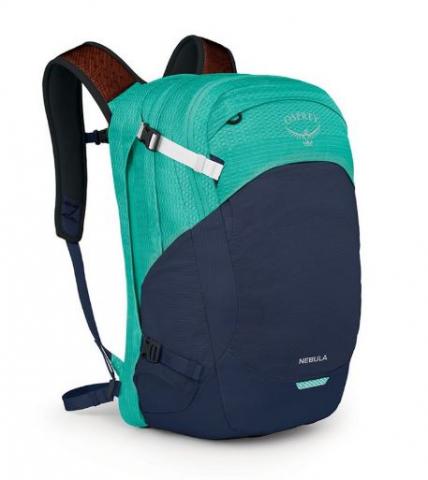 £100.00
Osprey is world-renowned for its robust quality and excellent design of rucksacks and bags. The new Nebula backpack, part of Osprey's popular 24/7 series, is no different. The Osprey Nebula still has all the great features you would expect from Osprey, with added lifestyle features to make it versatile and effective for everyday use.
Available in five different colours, the Nebula Backpack has a wide range of features. It makes the perfect office companion. For work, my laptop fitted snugly in the laptop compartment. The sleeve is perfectly sized to keep your laptop secure but not impossible to get in and out, which I really liked. In fact, this compartment is really useful as it features a full-zip clamshell design ensuring optimum accessibility and saving you from having to root around the bottom of the bag for that pesky pen! To that end, the front of the bag is equally useful, as it has a special pocket for all your office essentials, as well as a useful clip for keys and small, handy pockets.
The Nebula has a 32-litre capacity, and is really lightweight. I'm quite short so the shape and size of large bags can sometimes be a bit of a problem, however, the use of lightweight and breathable materials has really made a difference here. The only small issue I have is that the bag is not free-standing. However, due to its ample number of compartments, you can organise all your things effectively so that everything is balanced and easier to carry around throughout the day.
Such a collection of well-thought-out features means that the backpack is perfect for convenience and comfort. As you would expect from an Osprey pack, comfort has been optimised. The shoulder straps are padded and the pack also features an Airscape, ridge foam back panel with Atilon framesheet. I love the Airscape back panel, as it means that you don't get sweaty as you're power walking through the city or hiking uphill.
Perfect for the office commute, I would also use the Nebula for a gentle gander around the countryside. For example, the front pocket is perfect for stowing a waterproof or snacks. It has plenty of hooks and clips making it perfect to suit your everyday needs. In summary, is a great lifestyle pack, offering everyday comfort and convenience, being a great all-rounder for any keen go-getter.
For more info on the Osprey Nebula backpack click here.
4.9 / 5 stars.
Pros:
- Multi-use: can be used for a laptop bag and office essentials, as well as treks in the countryside.  
- Includes 16-inch laptop shelf, ability to fit an average-sized laptop.
- The back compartment zips all the way down, ensuring optimum accessibility.  
- Padded straps and backing.
- Airscape allows for breathability.
- Available in 5 different colours.
- Reasonably priced when considering the quality.
Cons:
- Not free standing so you have to put something robust at the bottom.