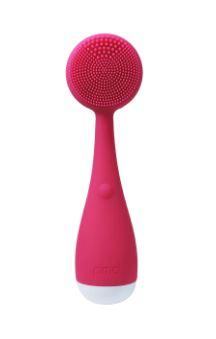 £59.00
As a teenager, like millions out there, I really struggled to find a skin routine to combat the growing tides of acne. Therefore, looking back I would have really appreciated the PMD Clean Mini as it is perfect for many people just starting out with their skin care, as it is completely simple and easy to use.
The design of the product is really straightforward, consisting of soft silicone bristles that you can massage into your face, working to unclog the pores and dry skin. Not only this, but it also feels really lovely on the skin which is the ultimate goal. It is also the perfect tool to try out any serums on your skin, as the back of the pad is ribbed, allowing it to really work any products into the skin. 
In comparison to its older sibling the PMD Clean Pro Gold, which we have also reviewed, I actually prefer the size of the Mini because it really allows you to get into all the nooks and crannies of the face, which is harder with the larger pad of the pro. The Mini is also (a bit) more affordable than the original; version, making it more marketable for teens and beyond.
Overall, I think this is a brilliant product for teens just starting out in their skin routine, because it quickly became a staple of mine as I endeavour to try to stay young!
5/5 stars
Pros:
- Really simple and effective.
- Silicone Bristles to massage serums.
- Good size.
- A tad more affordable.
- Available in pink, purple, orange, and yellow.