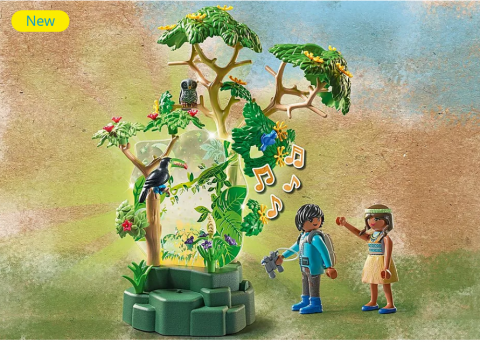 £7.99 - £19.99
Looking for Christmas gifts this holiday I am sure ignites the child in all of us. Especially when you think about the old sets of Playmobil we had as kids, having many a fond memory from when I was young. Therefore, when I opened up Playmobil's latest release; the Wiltopia Range, this was certainly the case, as I was transported back to my childhood where I would spend hours poring over the latest Playmobil set. But this time it comes with an environmental twist!
First of all, I think the name of the product is great as it draws in ideas of wildlife and nature, alongside a kind of fantasy utopia, making it perfect for a children's toy range. The entire range is sure to bring tonnes of fun, due to the extensive variety of toys that the Wiltopia range offers. For example, the Rainforest Night Light alone is brilliant for your child's entertainment as it has a large jungle night light, inspiring a thrilling jungle adventure during the day, and a cosy warm night light that takes them through to sleepy nights.  This is further encouraged by the gentle sounds of the jungle floor that it offers, which are so peaceful and relaxing that will no doubt also take you to the land of nod whilst you put the little tigers to sleep. 
At the same time, if it is too loud for your child (or you) then the light and jungle sounds are adjustable so that it's at just the right level for peaceful rest. Another great feature of the Rainforest Night Light is that both the light and sound features come with other options so that you can switch it up from time to time when you want. The set also comes with two characters (very sweetly named Alina de Silva and Rick Palmer) as well as a toucan, a tawny owl and lots of other little bits that can really spark the imagination of your children.
If the night light alone is not enough, the Wiltopia range also comes with lots of other little bits, that could be good for collecting over time. This is perfect if you can't think of what to get the kids for their birthday or as a special treat. It also means that you can expand to it an entire rainforest where the possibilities are endless... 
The only thing I would say is that some of the small parts could be a choking hazard for really young children. However, this is nothing new with Playmobil as it comes with the territory but is just something to look out for. 
A relatively new aspect that isn't seen in many children's products is the idea of sustainability which is a key element that runs throughout the range. This is an educational factor that is made fun and accessible for children through points such as collectable educational cards for the animals themselves. For example, in the collectable Anteater (my personal favourite toy) a profile card is available that tells you loads of interesting facts about the lives of Anteaters. And yet the sustainability is reflected in the products themselves, as the animal figures are made from bio-based plastic, coming with a wooden box and 100% recyclable packaging.  Further efforts can be seen in the fact that the small bags containing the figurines and accessories are made with on average 80% sustainable material, promoting an environmental product inside and out. 
In comparison to the Playmobil products of my generation, which included pirate ships and garbage trucks just to name a couple, the Wiltopia range stands out as a collectable toy set toy that is coming up with new and innovative ways to inspire children's imagination. 
4.8/5 stars 
Pros: 
- Really adorable-looking characters 
- The range is widely expansive 
- Comes with a dreamy nightlight and jungle sounds that both parents and kids can enjoy
- Educational aspects on both Wildlife and sustainability 
Con: 
- If you step on a piece it's going to really hurt!