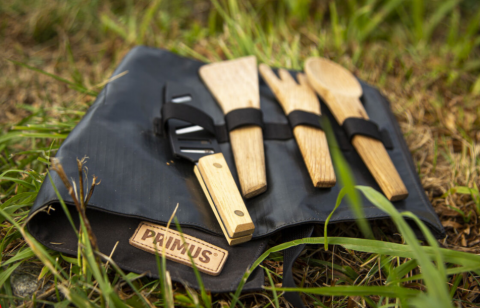 £67.00
Whenever you feel like going for a leisurely camping weekend with the family or going solo, it is essential that you have everything you need, and more importantly, you know how to use it! That's why the Primus Campfire Prep Set is perfect for any keen camper, whether it be your first time out in the wild or a seasoned professional. It's worth setting time aside for an in-store appointment at their Hereford-based 'Service Centre' to ensure you're prepared for every eventuality. Trekitt's been going since the 80s and was founded by outdoor enthusiasts. Quite frankly, what Trekitt doesn't know about outdoor camping isn't worth knowing about!
The Primus Campfire set, although seemingly simple, is highly efficient in everything you need to create gourmet cuisine whilst sitting around the campfire. The kit includes a campfire knife, a grater, a wooden spatula, a wooden spoon, and a wooden fork. The wooden products have a really smooth quality feel to them and add to the rustic feel around the campfire. Both the grater and kitchen knife also work effectively, especially alongside other Trekitt products such as the cutting set!
All these products are conveniently wrapped up in a roll case that also has a pocket for any additional accessories or ingredients you may need to make a delicious meal. This is perfect for camping as it means that everything is in one place, rather than rummaging through your bag, or having rattle around as you walk. A particularly great feature also is the fact that the roll case can be laid on a flat surface to create a makeshift tablecloth or hung up on a branch to save space.
The Trekitt campfire Prep set would make the perfect companion to many other of Trekitt products and will quickly become one of your go-to essentials on your future excursions. Alongside, well-tested and high quality outdoor products, Trekitt also offer a long list of how-to's and lots of guidance over on their YouTube Channel. If you are in need of more detailed advice, Trekitt employs experts at their service centre, so whatever the camping need may be, you can simply book an appointment on the website, and they happily lend a hand!
4.9 /5 stars
Pros:
- Created from in-depth knowledge and years of experience in the camping sector
- Compact casing that is easy to pack
- Roll-up can hang or be used as cover/tablecloth
- Quality wooden and hardware products
- Provides any further guidance, found on Trekitt YouTube Channel or Service Centre.
Cons: 
- Quality comes at a price