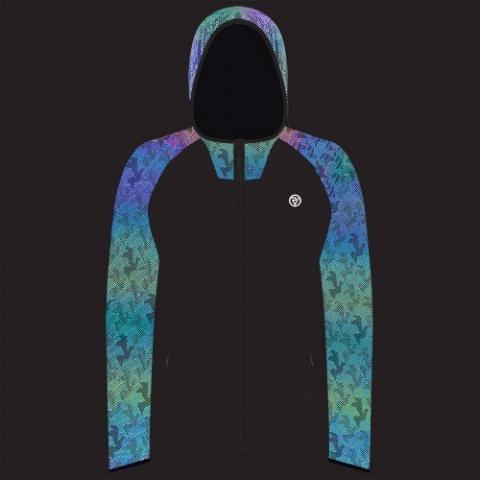 Proviz Explorer Running Jacket 
www.provizsports.com 
£99.99 
 
Another amazing reflective jacket from Proviz! What an incredible product: when I first looked at the Explorer Running Jacket, I thought "How odd – it's for night running and cycling, but it's all black!" How wrong I was. The Explorer Running Jacket in black is covered in a textured pattern that, in daylight, looks like more black-on-black, but under a bright, direct light, this texture lights up into a reflective purple and green sheen. This effect is even clearer at night – so much so that the effect is awesome and surreal. 
 
When under a beam like headlights, this jacket illuminates along its sleeves and hood, whilst the rest of the body remains black. This is stylish and creative, and a very cool, fun way to stay safe! The real bonus of this jacket is that by day, it's a casual, lowkey looking garment, rather than the vivid dayglow of most reflective gear. This makes it much more suitable for daytime wearing, and yet it transitions seamlessly into safe nighttime use. 
 
Apart from this key feature, what else does this particular jacket offer? Well, as you can tell from looking at it, it's been designed for all weathers: it's windproof and water-resistant/showerproof (aka, it'll keep you dry in the rain, but not if you go swimming!), with zips to protect the contents of your pockets and pull ties to prevent unpleasant weather infiltrating at your cuffs and hem. It's also breathable and lightweight (20,000gm/24hr breathability, and only 150g weight), which is fantastic if you're wearing it for a nighttime run. Or, equally, you could simply keep this in your bag ready for those walks home: it scrunches up small, and is so light that it would be no trouble to carry with you in case it's needed. 
 
We see a number of jackets for running or staring down the weather, and this isn't the most heavy-duty coat we've seen, and neither is it the most over-engineered piece of running gear. However, it nails what it sets out to do, which is to create a jacket that's versatile: it allows people to have a lowkey-looking weather resistant jacket by day and yet a highly reflective and safe one by night, and it's so easy to carry with you that you could stash it somewhere and never be either put out nor caught out. 
 
Well done, Proviz – this is another excellent jacket, proving yet again that they are indeed professionals about visibility. 
 

4.5/5 
 
Pros: 
Windproof 
Water resistant 
Showerproof 
Adjustable hems and cuffs 
Extremely reflective by night 
Looks neutral and black by day 
Lightweight 
Breathable