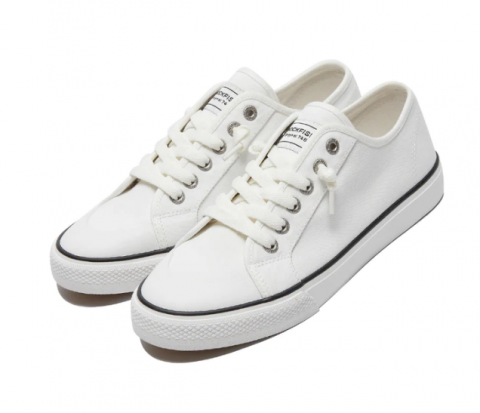 Rockfish Original Lazy Lace Sneakers
£38.99
Rockfish, a family-owned business from Cornwall, is a well-established wellington boot brand. However, Rockfish has decided to expand towards a more leisurely and casual footwear line with the release of the Lazy Lace sneaker. From the get-go, you can see how Rockfish have adopted the classic sneaker style, with slick thick lining detail and a crisp white colouring to create a new trendy twist on the classic trainer style we all know and love. A unique point about these shoes, in comparison to Rockfish's other sneakers, is that they are much easier to tie up, making their everyday use just that little bit easier. Judging from the shoes that were sent to us, they offer an incredibly comfortable leisurely experience. The breathable cotton fabric exterior and cushioned inner lining seem to offer relaxing wear, whether it's popping to the shops or going for a five-mile walk on the beach.
Rockfish's promise, that it "Fits Your Every Move!" is demonstrated by its robust and grippy sole. As a person who regularly wears down their shoes, these soles look promising and long-lasting. Their versatile nature is reflected in the fact that they are water repellent and therefore useful for whatever season. This is also helped by the fact that the toecap of the shoe is white rubber, making it even more durable and very easy to clean.
The Lazy Lace variation is one of a variety of the RF Originals, which also offers a wide range of colours alongside the standard white colouring. The colours include; off-white, sand (to go with the "oceanside leisurely lifestyle"), navy and an all-black colour. This means that, if like me, you tend to get white shoes dirty (very quickly) there are other options that still offer the stylish classic appearance whilst still looking crisp after a couple of wears.
As with many of Rockfish's shoes, a wide variety of sizes are available, ranging from sizes two to eight. If you do however take shoes in half-sizes, then this is only available in a size 6.5. Even so, due to the unique lace design, it is possible to wear either a size down and they should still be more than comfortable.
Pros
-          Robust soles with good tread
-          Rubber toe cap which makes it easy to clean
-          Vegan friendly
-          Water repellent
-          Well-priced in comparison to other shoes on the market of a similar nature
Cons
Only offer half sizes in a 6.5, otherwise, they are full size.