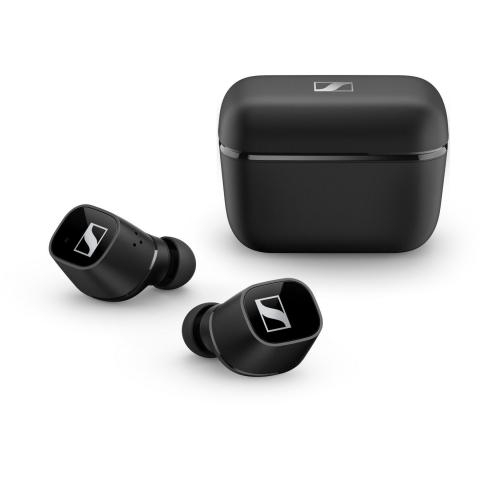 Sennheiser CX True Wireless 
£119 
www.sennheiser.com 
 
With 75 years of experience behind them, Sennheiser are an audio brand you can rely on. We received the company's new CX True Wireless earbuds, and immediately upon testing them, I was struck by just how clear their output was. We test a lot of earbuds here, but even so, the clarity of the audio from these buds was fantastic. Thanks to the buds' bespoke Sennheiser TrueResponse Transducer, the sound is rich, broad, deep, with a satisfying base without loss elsewhere. Even better, the balance is adjustable using the accompanying Smart Control App, allowing you to control features such as a 'Bass Boost' and a build-in equaliser, so you can make these earbuds suit both your audio tastes and the demands of your music. 
Audio is the most important test, but the second most important is comfort. In fact, if you plan to wear these a lot, comfort can be even more important than a richness of sound. Happily, these buds are extremely comfortable. Their general shape is my personal favourite when it comes to earbud options, and more specific to these buds in particular, they are ergonomically designed to sit well with your ear. They remain secure whether you're walking or jogging, and the buds come with four sizes of ear adapter, so you're bound to have the size that fits best. 
 
Speaking of walking and jogging, these buds use passive noise cancelling, not active, which does mean there's no way to switch to an 'ambient mode' for extra safety when traveling. However, I found that whilst they blocked sound beautifully, it's possible to keep track of your surroundings as long as you turn the volume down a little. Plus, let's not forget the app – tweaking your sound levels can give you a better chance of keeping an ear out at the same time as being in a world of your own. 
 
You're never too alone, though – using simple taps and touches, you can answer calls and access Siri etc. as well as listening to your audio, all controlling your phone via the buds. These commands were intuitive, following the patterns I would expect, but they are also customisable if something else felt more natural to you. 
To run through some of the essential stats: including charging from the case, these buds have a credible 24- hour playtime battery life. That means you would have to literally use them all day before you ran out of battery. They are suitable for the rain or surviving other splashes with their IPX4 splash resistance rating. This isn't enough to go swimming or anything like that, but you can go face that jog, dog-walk or travel to work in the rain without having to worry. 
 
Overall, these are some great buds that, as Sennheiser puts it, "don't compromise on sound". They feel good and sound fantastic. 
 
4.5/5 
 
Pros 
Ranged, clear sound 
Adjustable bass boost and equaliser 
Handy accompanying app 
24 hours of charge time 
Rain and splash resistant 
Comfortable to wear 
Secure fit 
Effective PNC 
 
Cons 
Only PNC, not ANC