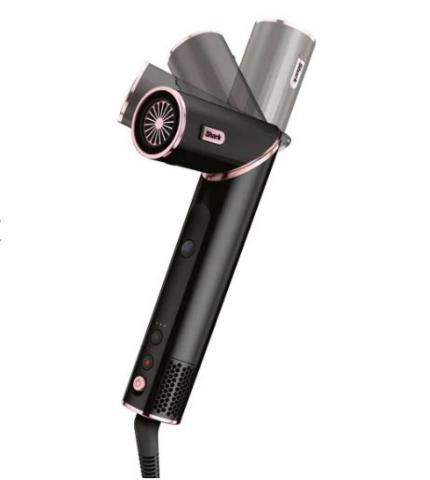 Shark FlexStyle Air Styler & Hair Dryer
£299.99
I have been greatly looking forward to reviewing the Shark FlexStyle for some time. Mainly because to say it has become an internet sensation is an understatement. After the release of the Dyson Airwrap, many people found that the Shark FlexStyle was a more affordable, and even more effective alternative. Therefore, I was highly excited to put it to the test.  
The first thing that struck me is the sheer convenience of the FlexStyle. Instead of scattering about various hair accessories across my room, my entire hair routine is attached to one wand. This is mainly due to the fact that the FlexStyle comes with five attachments: a hair-drying tool, auto-wrap curlers, an oval brush, a paddle brush, and a diffuser. This allows for a multitude of styling with one secure wand, as each attachment was brilliant, especially if you are always doing your hair in a rush like me!
Fundamentally, the wand operates as a hair dryer and therefore is used for different functions depending on the attachment. Firstly, the hair dryer itself is highly effective, providing a really powerful blast. At first, I was apprehensive as the air-drying part is relatively small when compared to your standard hair dryer. However, it provides a strong stream of air. Plus, the end can be bent at a 90-degree angle to replicate a more conventional hair dryer. To add to this, there is also an attachment that can fit, so that you can have more control of heat direction, making it just as effective if not better than standard hair dryers. 
Moving on to the Auto-wrap curlers. These also work really effectively at styling hair, particularly if you're looking for trendy bouncy blowout curls. My favourite part about the curlers, however, and what makes the FlexStyle stand out from other curlers, is the fact that it predominantly heatless. Although there is an option to add heat to the treatment, it is not entirely necessary. This is a godsend for me as I always end up burning myself somehow and is the ultimate annoyance right before I'm leaving the house. More importantly, however, it means that your hair doesn't from heat damage, a frustrating consequence that was once considered inevitable. Another fantastic feature (and quite magical if you ask me) is that you don't have to physically wrap your hair around the wand. Instead, your hair is sort of sucked up into position. Again, this glorious invention means days of burning my fingers on curlers are no more.
The same forethought is replicated in the paddle brush attachment which is great for straightening your hair. The best part about this particular feature is that it doesn't make your hair go really flat but instead gives it volume, as your hair travels through the brush. (The same format is also replicated for the barrel brush that also volumises.) Mainly because when the air travels through the brush attachment, it saves the absolute pain of also straightening whilst trying to hold a hair dryer and brush. Again, unlike straightens, you don't have to constantly worry about burnt fingers. Finally, the inclusion of a diffuser is a brilliant extra touch, as this is a feature you only really see at the hair salon, as it caters to a wider variety of hair patterns.
It is also important to mention the packaging, as the FlexStyle comes in its own robust vanity bag. This is brilliant for keeping together whilst also looking really stylish and organised. It also means that your own mini hair salon is portable and great for travelling, adding just an extra touch of convenience to an already great product.
Overall, the Shark FlexStyle can't be missed! Its lightweight functionality outshines the large jumble of products that you're used to. Making it an affordable and highly desirable hair necessity this Christmas.
5/5 stars.
Pros:
- Highly convenient, with a wide range of attachments.
- Powerful stream of air.
- Heatless curling.
- Auto wrapping curl technology.
- Robust
- Lightweight