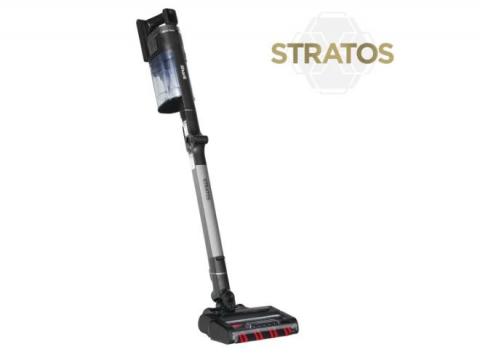 Shark Stratos Anti Hair Wrap Plus Pet Pro Cordless Vacuum
£449.99 (Black Friday Event)
Here at the Gadgethead office, we have reviewed numerous Shark products (and particularly vacuums) in the past, and it must be said that Shark Stratos Anti Hair Wrap is one of their best yet! One of my biggest annoyances with hoovering is the fact that the power can cut out repeatedly, either by the chord never being long enough, or when the battery goes flat on a wireless vacuum. However, Shark have come to the rescue, as one of the many great features of this particular vacuum is the extension of battery time, running for two hours. (Allowing at least 2 circuits of the house!)
Once again, the same brilliant anti-hair wrap technology that we have seen previously is replicated in the new Stratos. I find that mountains of hair (from both myself and the dog) are usually my main reason for getting the vacuum out, becoming a weekly endeavour. Subsequently, large amounts of hair can jam up in the power head of the vacuum, due to the inefficiency of the brushes. However, with the Stratos, it cleans up large clumps of hair with ease. The Stratos tackled this problem easily, as the combination of the anti-hair wrap technology and the Duo Clean brushes are really efficient in collecting hair in a way that doesn't make the whole vacuum crash. Therefore, it was brilliant for collecting all the small bits of hair on the carpet that are often missed by other hoovers, which overall saves time and effort as I don't have to go over the floor time and time again.
Additionally, the Duo Brush was not only great at picking up hair but also every pesky bit of dirt that usually is too tiny to reach. The detailed dirt pickup is also supported by the Clean Sense IQ. Quoted to pick up "50% more debris" and "senses the dirt you cannot see", I was apprehensive at first. However, I found that after using the Stratos, the floor and surroundings became dusty less quickly, meaning that it must get deep into the nooks and crannies, which reduces build-up over time, which again, reduces the chore of hoovering. 
A new feature introduced by Shark in the Stratos is the use of anti-odour technology. Positioned as a dial on the head of the vacuum, it stops the vacuum from collecting that classic musty hoover smell over time and ultimately made the endeavour of hoovering just a bit nicer.  The power head of the Stratos has also been altered to make it lighter than other models, this means that hoovering is even easier as instead of developing back ache you can simply send the Stratos around the floor and let it do all the work for you, especially since you are not anchored down by a chord either. Although I found that I had to empty out the vacuum more regularly, this is a small sacrifice to make for the rewards of having such a lightweight and efficient vacuum.
4.9/5 stars
Pros:
- Lightweight and cordless.
- Effectively picks up hair using anti-hair wrap technology.
- Clean sense IQ, 50% more dirt pick up.
- Anti-Odour technology, stops the vacuum from smelling from the inside, by providing an odour to combat the smell, positioned as a dial on the head of hoover.  
- Duo clean: 2 brush heads to cater to all floors and really collect up the dust.
Cons:
- Small capacity means it has to be emptied out more regularly.