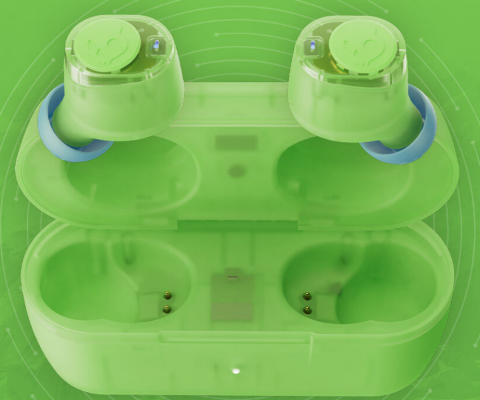 Skullcandy Transparency Series Earbuds 
£44.99  
This Christmas you will probably find that there is a highly competitive market for earbuds and headphones, considering that other huge tech brands have released headphones. However, if you google such head phones you will soon find that their allure is quickly overtaken by the high price at which they go for. This is why I was very pleasantly surprised to find that the Skullcandy's latest release, the Transparency Series Earbuds, are a quality alternative at an incredibly reasonable price compared to many others in the market.  
About 5 years ago we reviewed the Skullcandy Crusher Wireless Headphones. After giving them a glowing review, it seems that the Transparency Earbuds are like an even cooler younger brother. This is mainly due to that for a very good price, they fundamentally have really good sound quality, coming a long way from the old wired headphones you would buy about ten years ago. For the affordable price of £44.99 they give a great listening experience. Although it can occasionally go slightly tinny with some sound leakage when you turn up the volume really loud, but this is expected of many headphones to a certain extent. Additionally, as expected of Skullcandy headphones, they provide a clear feel for the bass which I personally quite like, although it may not be for everyone. The earbuds also have 30 hours of battery life, which is interestingly less charge time of the Crusher Wireless headphones (offering 40 hours), however this is more than many earbuds that are at a far greater price.  
Furthermore, with other earbuds I sometimes found that after wearing them for a while my ears tend to hurt, however, with these they felt really comfortable for hours, to the extent that it felt like there weren't even their majority of the time! This is really good if you're out and about as you don't want to be constantly worrying if they have fallen out or getting uncomfortable. Although, if you do find that the earbuds have fallen out, they have built in tile tracking. This is a particularly good feature as I am always misplacing my headphones at some point in the day, therefore being able to keep tabs on them is a must.   
Another really unique aspect is the fact that these earbuds are a part of Skullcandy's efforts to go green, both in the 100% recyclable packaging, as well as the fact that this recent launch has also offset all their carbon emissions. Within the tech industry, this concerted effort is really good to see we consider how much waste many companies generate.  
Skullcandy's efforts to go green are also reflected in the design and appearance of the headphones, due to the fact that the earbuds come in a vibrant 'transparency green', with blue detailing, alongside a robust and solid charging case in the same colour. Although I know it is meant to carry the motif of going green, and is the unique selling point for the product, I prefer to have more neutrally coloured headphones. That being said, I like the fact that they have kept distinct a green theme for their sustainable limited-edition product, which will appeal to many.  
Overall, the Skullcandy Transparency Earbuds are super comfortable with a reasonably good sound quality. Plus, their efforts towards climate change are certainly admirable. Therefore, if you're looking for a decent pair of headphones at an affordable price, with a vibrant edge then these are definitely the headphones for you!!  
4 out of 5  
Pros: 
- reasonable sound quality   
- long life battery  
- environmentally green approach 
- robust and quick charging case  
-  really comfortable  
Cons:  
- slightly tinny sound at certain volumes  
- only one colour available at the moment