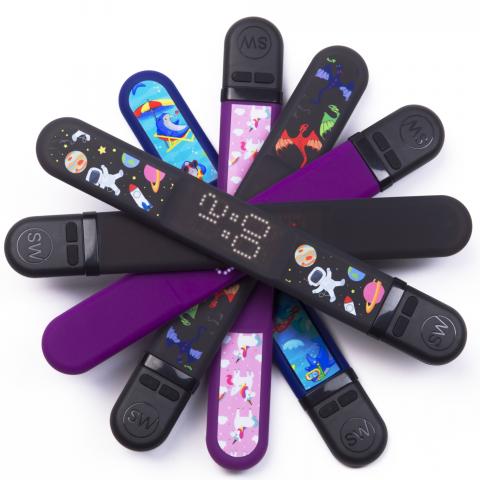 SnapWatch 
www.snapwatch.co.uk 
£9.99 plus P&P 
 
I remember snap bands being all the rage as an accessory when I was a primary school kid – aka, back when the SnapWatch was first thought up twenty years ago! Since then, regular digital watches have become products such as the Apple and Samsung watch, but the SnapWatch is finally here to contend. If Claire's is anything to go by, then the snap band is still a popular accessory in its own right, too. 
 
The SnapWatch does exactly what it sounds like: it's a digital watch integrated with a snap band, making it a fun, lightweight, durable and easy-to-fasten watch for your child. With watches a less and less common requirement, but some parents holding out against getting their child a phone literally from birth, the SnapWatch is a brilliant way for your kids to know the time from something that's hassle-free and much more fun than a regular watch would be. 
 
SnapWatch is available in six designs, two plain and four with trendy graphics featuring dragons, astronauts, sharks or cute unicorns We received a plain black (I'm sad that we didn't get any dragons or astronauts!) Although the SnapWatch display is impressively flexible having being slapped round the wrist you can also read the display in straight mode. The unusual flexibility of this watch is the first of its kind and the digital display remains clear and bright in either position. 
In our testing, the watch snaps onto your wrist well and keeps its shape but ensure the control unit is flush against the back of the wrist. As it is unlike other watches, there is a knack of using SnapWatch but it's pretty simple to operate. 
 
Now that the flexible screen technology works as well as it does, SnapWatch's next stop is to up the functions to integrate NFC, music and messaging thereby providing a child-friendly alternative to the Apple Watch. 
These SnapWatches are fun, affordable, come in a range of designs, and they do exactly what they claim to. They're a hard watch for kids to break, and they'll enjoy slapping each other with them endlessly – don't worry, the silicone texture means that slap as you may, it doesn't actually hurt.  
4.5/5 
Pros: 
New flexible digital display 
Clear screen readout 
Variety of fun designs 
Doesn't hurt to slap 
Hard to break 
Fun for all and affordable too 
 
Cons: 
Slightly large control unit 
More function improvement