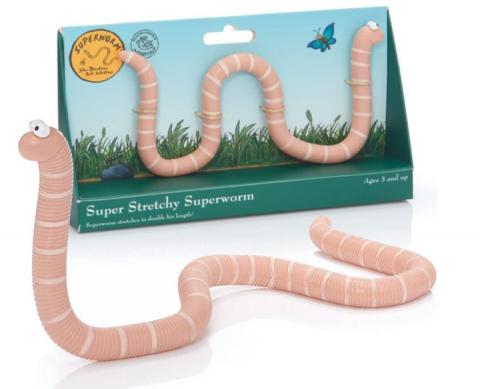 £6.99
As a child, Julia Donaldson's The Gruffalo was one of my favourite books. The fact that Axel Scheffler's beautiful illustrations are still being brought to life today is wonderful to see. Superworm was not an exception to my love for all the characters. And to my delight, the Super Stretchy Superworm as a toy is just as cute as he is in the story. Particularly since the creators of the Super Stretchy Worm have managed to capture the illustration's likeness by including really cute beady eyes.
The toy itself is very simple, but a lot of fun for small children, keeping them entertained for hours. This is mainly due to the fact that it does what it says on the tin: it is incredibly stretchy!! (Spanning a super long 20cm). This means that the worm is incredibly durable as it stretches and bends in any way you want.
It is also perfect for any parent that wants to keep their child occupied. Anyone who has been around young children long enough will know that they constantly want to fiddle with things and touch everything they can. Thankfully, with the Super Stretchy Superworm your child can be occupied for hours, stretching it, flinging it, chatting to it, or even playing a game of tug and war with it.  
Another great bonus about the Super Stretchy Superworm is that would be brilliant for building muscle in young children. Even more great is the fact that young disabled children can use the Super Stretchy Superworm to build up fine motor skills by attempting to pick up the worm and stretching it, to greatly build strength. The ribbed texture of the worm would also be great as a sensory aid for children to concentrate with. Therefore, showing how it can be used to help children both physically and mentally.
5/5 stars.
Pros:
- Is genuinely really stretchy.
- Really affordable.
- Provides fun for hours.
- Small and compact, can be carried around easily.
- Good for building up strength and motor skills in young children and disabled children.
- Good for children to fiddle with to stay entertained.
- Brings a beloved story alive.