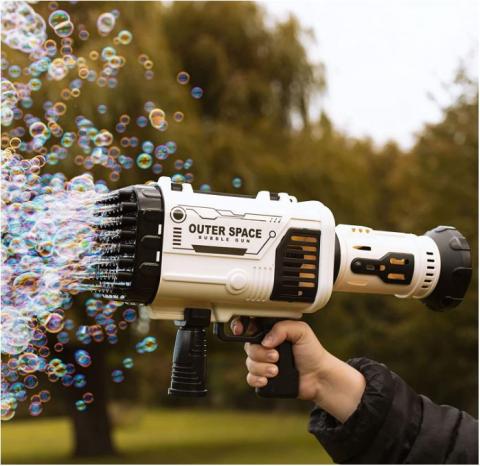 Thumbs Up – Bubble Gun Extreme
£39.99
Is there anything more joyous in life than a floating cloud of bubbles? However, whenever I try to create such a cloud with a regular bubble kit, I can maybe manage one or two good ones before the bubbles with no success. When trying to entertain children with such uninspiring stuff it can be quite a challenge to keep them smiling. This is why the Bubble Gun Extreme seems like such a good idea, as it allows lets you blast a swarm of bubbles in one big swoop.
The Bubble Gun Extreme's design is as good as it sounds. It looks like it should be a prop out of a Star Wars film, letting your imagination go wild. Furthermore, the Bubble Gun Extreme comes with stickers that let you jazz it up, making it look like a proper space gun. However, when looking up closely, the gun arrived slightly scuffed which isn't terrible, but it slightly knocks the overall appearance. Furthermore, the plastic used is hard but thin and brittle, so I would be worried that after a couple of drops it would begin to crack. That being said, it does mean that the Bubble Gun is really light, even with the battery in it! This is brilliant for children (or adults) that are running around with it.
As a bubble machine, it works really well. You simply place the provided battery in the small cylinder, then attach this to the underside of the Bubble Gun which allows the trigger to the work fan. Next, you place the gun in the tray with the mixture, in which the fan creates a vacuum to collect up the liquid and then shoots it out. Although not all the holes collected the liquid in one go, it still created a large kaleidoscope of bubbles, bringing hours of entertainment. The bubbles that it creates are also huge and last far longer than anything you could make with a simple stick and mixture.
3.5/ 5 stars
Pros:
- Sci-fi design. 
- Comes with stickers so you can design how you want it.  
- Comes with battery and bottles of liquid.
- Provides a kaleidoscope of bubbles.
- Lightweight even with the battery.
Cons:
- Doesn't come with instructions
- Thin hard plastic used, seems like it could easily crack or break.
- Arrived scuffed and labels stuck on askew.
- When placed in the bubble tray, not all 60 bubbles are covered.
- Part at the back is pointless and takes up space.