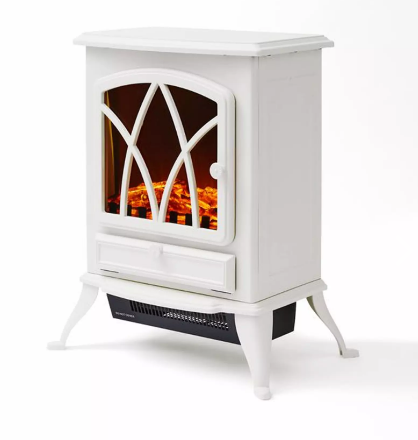 £89.99
Is there anything more wholesome in these cold winter months than the feel and look of a crackling fire? Like many people in more modern houses, we do not have the opportunity to have a wood-burning stove, and therefore we miss out on the fire stove experience. So, in the Gadgethead office, the new addition of Tower's Electric Fire Stove has been very welcome and added a lovely Christmassy touch!
Appearance-wise, the Tower Electric Stove Heater looks exactly like a small portable wood-burning stove, adding a very homely feel to any room. The stove also comes in white, grey, black, cream, and blue. This variety of colours available means that you can find one that matches your space perfectly. The size is nice and compact as well, so in the summer months when you may not be using it as much, it can be neatly packed away in the cupboard. But for now, in the winter, the flames themselves look very realistic, as warm tones from the embers continued to light up the room. Personally, one of my favourite features is the fact that you can turn down the brightness of the flames, although this felt quite odd at first (due to how realistic the flames look), it worked really well if the amber glow got a bit too bright!
Now down to the technical stuff! It fundamentally worked really well as a heat source. Although it did take a bit of time to get going, this can be expected of many electric fire stoves. With a 2000W heater, it kept everyone warm throughout the freezing cold day. However, you can adjust it to its other setting of 1000W. This is really useful at a time when everyone is working hard to reduce their energy bills. It also lets you be in more control of the temperature, and with a maximum of 120 C, you can be sure to always keep your toastie warm.
Like many of Tower's other quality products, the Electric Fire Stove does exactly what it says on the tin and keeps your space cosy and warm, making you feel like your sat in a scene from a Christmas card. This makes it a great addition to any home this festive season.
4.5/5 stars
Pros:
- Nice design
- Comes in a variety of colours
- Control the warmth and brightness of flames
- Switches between 2 heat settings
- Compact but effective
Cons:
- Takes a while to warm up