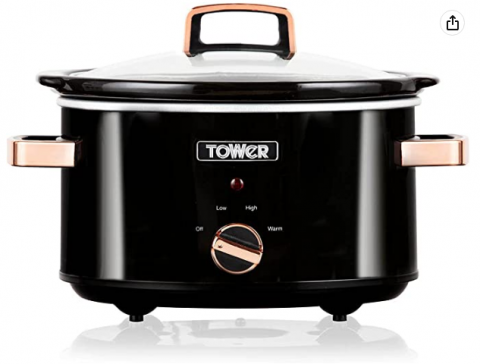 Tower Rose Gold 6.5 Litre Slow Cooker
£49.99
Is there anything better than stepping through the door on a freezing cold day, and suddenly be hit by a waft of a hearty casserole or a bubbling curry. It's one of my favourite things about Winter. (It almost makes the cold weather worth it…) As such, I strongly believe that a slow cooker is a staple of any kitchen in the colder months. I was therefore relieved when I saw that I could get my hands on the Tower Rose Gold Slow Cooker to try.
At first glance, I really like the Rose Gold accents of the Slow Cooker as they are a little extra snazzy feature that could make it a cute Christmas Gift. Having copper or even gold in your kitchen means that it can blend in and make a nice little addition to an already modernised cooking space. Who doesn't love a little bit of colour and fun in their kitchen equipment.
The slow cooker can also be really good for the many of us that are undoubtly feeling the pinch of energy bills this Winter. Thankfully, the Slow Cooker not only looks really nice but is also really energy efficient, as it takes up less energy than an oven or hob. (And even a conventional light bulb!!) That way, when you are making a delicious meal, you also know that you are saving yourself and the family money at the same time.
When you delve inside the pot it has a great capacity and can hold more than you think it can which I really liked. As you may expect it also cooked my Chilli really nicely, which I could easily control by the 3 different heat settings on the front, making it simple and easy! The 6.5-litre size also means that it is compact enough to not take up loads of room, but it is still big enough to make about 4 portions.
The only I would caution is the outside of the pot can get really hot when it's cooking, so that's just something to be aware of. However, the use of tempered glass makes it really sturdy and safe, but it also lets you see inside whilst cooking so that you can check on your food without taking the lid off, which is an extra bonus as I can't help but give my cooking a quick peak from time to time
The only thing I would probably improve is the inclusion of a timer, however, this isn't a massive necessity as usually you just leave it throughout the day anyway, so it doesn't particularly need strict timings. Therefore, I would definitely recommend for the cold nights this Christmas.
4.8 / 5 stars
Pros
- Snazzy rose gold colouring
- Good compact sizing
- More energy efficient than an oven or hob
- Very powerful and cooks the food nicely
Cons:
- Outside of the pot can get very hot
- Doesn't have a timer (but not entirely necessary)