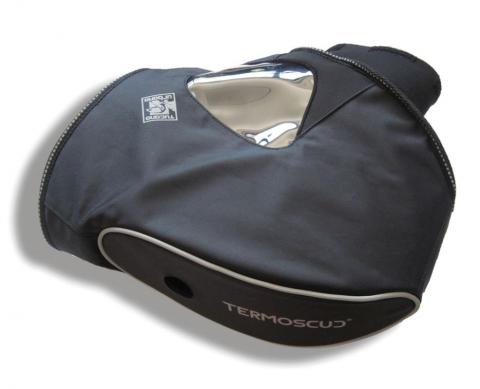 Tucano Urbano Polyamide Hand Grip Covers
£62.99
As a keen motorcyclist for over three decades, I have tried so many different gloves and various accessories to make riding the bike the best experience it can be. In winter I often find that thick and robust Winter gloves can be like wearing duvets on your hands and are a struggle when trying to use the controls.
As any rider will know, your hands are the first things to get cold on the bike and when this happens, they can become stiff and numb. This clearly isn't great with hands less reactive. Therefore, the "muffs" can be considered a matter of safety as well as warmth. Thus, the handlebar covers provide a happy medium between keeping your hands warm and dry enough in the Winter without overheating, particularly when using heated grips.
The Tucano Urbano Polyamide Hand Grip Covers are excellent for this as they have a new interior which allows for breathability, whilst maintaining the warmth and lessening wind chill. The use of hefty Polyamide waterproofing works effectively as the inside remains dry. The design aspect of the Grip Covers is spot as they keep nicely expanded and with another great feature being that the mounting system uses a screw-tight safety closure, making them sturdy and stable at all speeds. The Hand Grips are also very versatile, as they are available for handlebars with mirrors too. This means that Turcano Urbano have you got you covered whatever your bike may be. A drawback of all "muffs" for some riders is that you can feel tethered to the bike, although I don't necessarily mind this and you soon get used to it especially with these as they have a window for you to be able to see the controls.  This might be something to consider for less experienced riders.
They feel quality and secure on the bike which all suggests that they will be durable and reliable for a long time. One thing to watch however is if it becomes hot it can become a job to take them on and off. But with that being said, at least you know that the covers are secure!
4.8 / 5 stars.
Pros:
- Good temperature control.
- Window to see controls. 
- Simple and effective mounting system. 
Cons:
- Unable to see your hands fully.
- Can be difficult to take off if the weather suddenly gets hot.