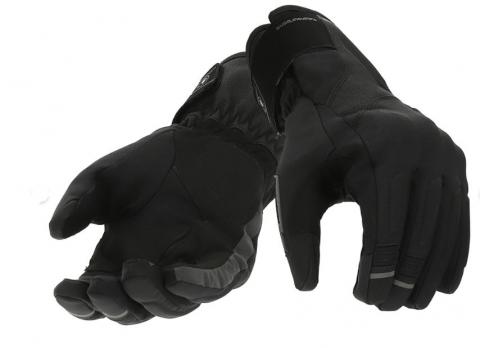 £54.99
Finding the right pair of motorcycling gloves is a must and they need to offer protection, look good and be comfortable.  As the cold winter months start to creep in, I like to experiment with gloves although with the prices of everything increasing it would be great to get a product that could do all seasons.  Consequently creating the ultimate motorcycling glove can be a challenge.
However, it seems that Tucano Urbano have come close to hitting the jackpot, with these many well-thought-out featured Zeus 2G gloves. Firstly, they kept me hands lovely and warm. They use a breathable material keeping your journey comfortable, achieved by having a membrane alongside an aeration system, that prevents your hands from feeling too suffocated. The waterproof element of the gloves also works brilliantly, due to the precise detailing of the inner membrane.
On the underside of the gloves, Tucano have also used a chamois material that lets you have ample movement and is great for gripping. Additionally, the Zeus Gloves have a two-layer visor wiper on the thumb which allows you to clean your visor. Also, these gloves also have 100% touchscreen compatibility which was super useful when using the GPS system on the bike, as well as being able to use your phone and avoid the faff of taking your gloves off.
Finally, the gloves feel robustly made with CPS armour in the knuckles offering more protection.  Perhaps the best part about the Zeus gloves is that all these great features come at a reasonable price, without scrimping on quality.  Well done Tucano Urbano on these gloves.
5/5
Pros:
- Ripstop material that is waterproof and durable
- Breathability is guaranteed by a membrane and the aeration system under the hand holes.
- On the underside, a chamois material that is highly comfortable and great for gripping the handles.
- Robust enough to feel protected: armour in the knuckles, great for protection
- Two-layered wiper in the finger to clean visor and mirrors.
- Touch screen compatibility for bike and phone.
- Nylon material and adjustable Velcro cuff.
- Available in a range of sizes.