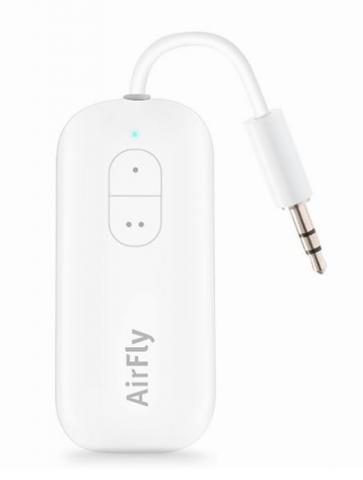 £34.99
Considering the fact that there are so many wireless headphones and earbuds on the market, it is a wonder that a Bluetooth adapter for a headphone jack has not been created before. Particularly when for years travellers have often had to suffer using flimsy headphones every time they go on a plane. Not only are they really ugly, but they also are incredibly uncomfortable.
This is especially frustrating when you're on a long-haul flight and hoping to drift off to sleep. This makes Twelve South's AirFly such a simple but effective idea, as it allows you to connect your wireless headphones to a piece of tech that is perhaps outdated and only possess a headphone jack. Since the AirFly itself connects to the jack, it can transform the usage of a once inaccessible device. This is not only the case for an entertainment system on flights but can also be used on the treadmill when you need a distraction by watching the TV, or even your gaming console. Therefore, it holds a lot of potential with such a variety of uses.
When using the AirFly, I had no problems connecting the device to my Airpods. This is often a concern of mine when using Bluetooth as it tends to be a bit temperamental, particularly with Apple products, so I was pleased when it worked. Furthermore, I also wondered how the AirFly would charge (and whether this was possible through a headphone jack?). It turns out that it comes with a short charging cable that is USB-C, which is brilliant as it means the AirFly can be charged whilst being used. However, this is perhaps not a necessity since it has a 20-hour battery life. When I used it with my AirPods, the AirPods ran out before the AirFly did, demonstrating its durability and longevity.  
Another great aspect is the fact that the AirFly is compatible with a wide range of products. Despite the fact that Twelve South tend to primarily focus on Apple products, it can not only be used for your AirPods but also Bose, Sony and other noise-cancelling headphones.
Overall, the AirFly is a simple solution to a big problem. Due to its versatility, it would make a great gift for anyone with wireless products, as it makes so many devices suddenly accessible.
5/5 stars.
Pros:
- Easily paired.  
- Avoids using uncomfortable and bad-quality headphones on planes.
- Also used at the gym to listen to the programmes they are often playing.  
- Used by gamers on a range of consoles.
- Makes old pieces of tech accessible.
- Small and Compact, easy to use for travelling or at the gym.
- Can be paired with a range of brands, not just Apple.
- Battery life is 20+ hours.
- Can be charged whilst using.