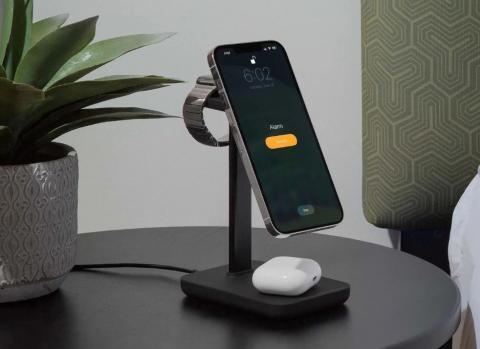 Twelve South HiRise 3 Wireless Charging Stand
£99.99
As more and more people purchase and have access to multiple devices, the notion of charging everything can become an increasing problem. It has got to the point where I've had to lug out an extension lead by my bedside table to be able to plug everything in, which is very inconvenient and looks really cluttered with all the wires going everywhere. In the case of Twelve South's HiRise 3, they provide such a simple solution to a greatly common problem, by keeping it tidy and saving so much space.
Firstly, the HiRise 3 Wireless Charging Stand is an immediate space saver. Its ingenious design means that you can charge three separate devices all at once in a small amount of space, achieved through a sleek but simple design. The HiRise is made up of a sturdy square base and a magnetic square charging pad, alongside a small hook to charge Apple Watch Products, almost like a small mannequin for your Apple products! Plus, unlike my poor extension lead, everything is charged with a single output cable. This makes it the perfect gift for anyone who is greatly short of space and needs a simple charging solution.
Based in Charlestown, South Carolina, Twelve South have been creating innovative gadgets and accessories for Apple products since 2009. Their reputation for sophistication and simplicity shines through with the HiRise3. One of my favourite things about the HiRise is that not only do all my products look organised and sleek, but it keeps them all together as they charge, which means I don't miss them. (I am especially bad for losing my Airpods.) Subsequently, the HiRise 3 lets me keep everything together, and saves a lot of stress!
So how do all the devices fit into the one charging gadget? The Magnetic Wireless Charger can be used to charge your iPhone. The charger itself is at a slight angle. I really like this feature as it makes your phone really accessible and can be effectively used as a stand for your phone whilst you watch videos for example. Additionally, I was cautious of the magnetic pad when turning my alarm off in the morning, as I was nervous I would hit my phone off the charging area. However, I was proven wrong as my phone was steadily held in place whilst I fumbled around trying to turn off the alarm.
Something to consider is the fact that the magnetic charger pad is only compatible with the iPhone 12, 13 and 14, as well as requiring the Magsafe case for it to work. This of course limits the number of people that can use the HiRise 3. However, this does not mean that you can't use the charger if you don't possess the latest iPhone, as any phone can be charged on the main charging base, (also regardless of the phone case). This does also mean that you can potentially charge two phones at once just by using one charging point, making it the ultimate versatile space saver.
Overall, this is a great charging gadget that is great if you want to keep your space neat and completely uncluttered. Furthermore, clear forethought has gone into the project as even those without Apple products have the chance to enjoy Twelve South's great design.
4/5 stars. 
Pros:
- Saves space, good for tight spaces
- Charges just using a single cable.
- Looks very aesthetically pleasing and slick.
- Keeps it all in one place so that you don't lose it.
- small 12 indicates where to put the AirPods
- Angle means that you can still use it, or use it as a stand to watch something.
- Can charge two phones at once, any model of iPhone or any other mobile phone.
Cons:
- The Magnetic Wireless Charger is only compatible with iPhone 12, 13, and 14, but the base accepts any model of phone.
- To charge using the Magnetic Wireless Charger you need the Magsafe case.