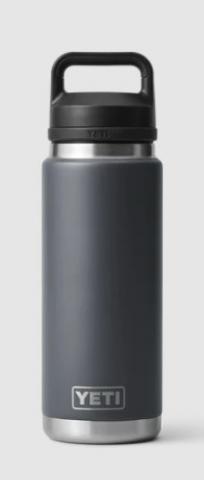 £40.00
YETI is a greatly established brand within the mountaineering and outdoors world, selling a wide variety of products that you didn't even know you needed. It is therefore no surprise that they decided to make an insulated bottle to take on your travels. As a keen hiker on the weekends, I was very keen to give it a try and see if it really re-invented the wheel when it comes to the humble insulated bottle.
First of all, like many of YETI's products, it is incredibly robust and almost stern looking. This reflects the rugged nature of the outdoors and thus appears to be a good companion as you trek up the hills. Its sturdiness comes from the fact that it is made of stainless steel and is large enough to carry up to nearly 1.5 litres, (if you get the largest size) making it a monster of a bottle. However, due to the sheer robustness of the bottle, even without the water I personally found it to be very heavy just stood by itself. On the other hand, this ensures the quality of the stainless steel, and the Rambler is available is available in multiple sizes so vary in weight. It also reflects the fact that when I was travelling my water was indeed kept cold and crisp throughout the day. Furthermore, in the evening it definitely worked as a heat source keeping a cup of hot chocolate cosy and warm. So, I can confirm that it does what it says on the tin.
One of the rambler's unique selling points is the new chug cap. Although I can understand how it could be good in theory, I found that it actually made chugging more difficult, as the hole which the water comes out is very small, which therefore made it more difficult to drink. So, although it is a nice idea it did not work out for me in practice. The handle at the top of the bottle however was good to keep hold of it along the walk, and of course, you could always clip it to your bag.
The YETI Rambler is a great companion to quench your thirst on a long trek, primarily due to its quality and sheer capacity. Although it perhaps is a tad pricey for an insulated bottle, I would definitely recommend it!
4.5/5 stars
Pros:
- Sturdy, due to stainless steel.
- Keeps liquids hot and cold for hours.
- Handle at top good for carrying or clipping to bag.  
- Available in 16 different colours.
- Available in different sizes, from 523 ml to 1.9L
Cons
- A tad pricey.
- Chug cap is too small to really chug.