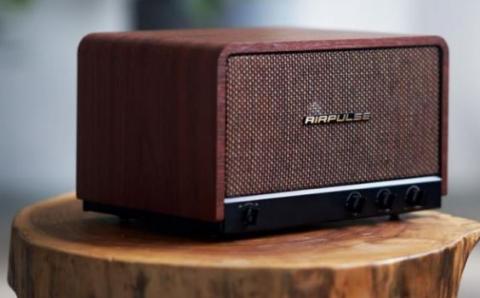 AIRPULSE ANNOUNCES THE STUNNING NEW P100X 

Featuring patented custom-designed tweeters drivers in a wireless desktop speaker system
The P100x is the latest offering from Airpulse, the renowned speaker designer and manufacturer. The P100x features a pair of patented custom-designed tweeters and 4.5" aluminum diaphragm mid-woofer. Drawing on the designs of traditional wireless FM radios, the P100x offers high-end digital power amplification delivered via line in or Bluetooth, all housed in a beautiful cherry wood speaker casing.  

Designed by renowned speaker designer and sound engineer Phil Jones, the patented custom-designed tweeters offer an oval shaped diaphragm to effectively deliver a better high frequency response, seamlessly reproducing the highest audio frequencies accurately. This tweeter easily out-performs any normal dome tweeters, allowing the speaker to be positioned anywhere in a room yet still performing at its best.  

The patented custom-designed tweeters accurately reproduce sound, evenly controlling the dispersion of sound from low to high notes. It has been constructed using a high degree of technological intelligence, creating a highly precise sound which is not usually seen in a single loudspeaker unit. 
The mid woofer is a 4.5-inch unit, featuring a hard anodized aluminium alloy cone suspended in a heavy, ultra-rigid cast magnesium alloy frame. Designed with meticulous testing, the 30mm diameter voice coil is larger than most found in similar sized speakers. It has been shown that larger voice coils have less power compression because they run at a cooler operating temperature. Sonically, this means a more realistic and dynamic representation of the music, really allowing the listener to be totally immersed. 

The cabinet is built using high-strength MDF, producing a superb foundation for a superior sound quality by reducing unwanted sound resonance, whilst delivering a pleasing aesthetic. The all-in-one design allows placement flexibility and the design will effortlessly fit in with your current room décor.

The P100x supports line in and Bluetooth v5.1 chipset QCC3031, supporting aptX HD codec and offering a lower distortion yet higher resolution audio output. This latest Bluetooth version also results in minimal interruptions for a more consistent listening experience. The well – known US cable manufacturer, TRANSPARENT, provide the internal wiring, further enhancing the reproduction of sound from the tweeter and mid-woofer system, producing a high degree of accuracy and sound resolution.  

Reminiscent of a traditional wireless radio, the one/off, volume, bass and treble controls are located on the front of the speaker. Easily fine tune the high frequency to your taste and adjust the amount of bass according to the listening environment. Included with the pair of speakers is a wireless remote that allows you to adjust the volume and mute your speakers from a distance.  
Specifications
Colour: Cherry Wood
Bluetooth: Bluetooth 5.1 with APTX HD
Power Amplifiers: 2 x 10W + 40W
Mid-woofer: 4.5" Aluminium Cone Underhung Design Neodymium Power Mid-Woofer
Audio presets: Classic, Dynamic, Monitor, Vocal
AC Voltage: 100-240 V / 50-60HZ
Input Sensitivity: Lin In 400350mV, Bluetooth: 450350mFFs
Frequency Response: 52Hz-20KHz
Input Mode: Line IN, Bluetooth
Dimensions (mm): 300 W x 180 H x 200 D
Net Weight: 5.1kg/11.5lb
Price & Availability
Available for £499.99 at:
https://www.tech4.co.uk/collections/airpulse/products/airpulse-p100x-multi-driver- bluetooth-active-speaker-system
https://www.kitchenbathroomradio.co.uk/products/airpulse-p100x-multi-driver-bluetooth- active-speaker-system?_pos=2&_sid=2cbffcf03&_ss=r
About Airpulse
The Airpulse brand is trademarked and owned by the Platinum Audio Systems Company, founded in 2004 by renowned speaker designer and audio engineer, Phil Jones in partnership with Edifier Technology Co., Ltd, manufacturer of Edifier speakers and headphones. Specializing in the design and development of consumer, professional and MI products, Airpulse is the epitome of Phil Jones' creative journey spanning decades spent in pursuit of developing the perfect loudspeaker.