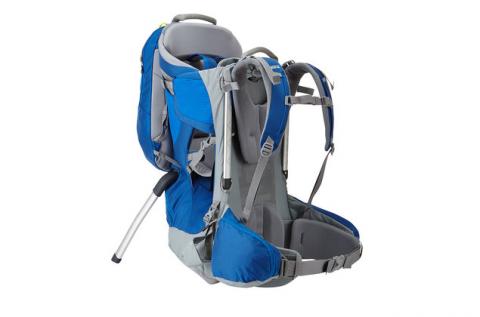 The Thule Sapling Elite Child Carrier is absolutely crammed with features and accessories to make a day out on the trail as stress-free as possible, available in either Colbalt or Dark Shadow (that's grey to you and me).
Diving straight in, the Sapling Elite features a fully adjustable back panel and hip-belt to provide a perfect fit for all shapes and sizes. All components can be adjusted easily whilst wearing it, making the carrier quick and simple to switch between people whilst out and about. There is plenty of storage, with four mesh pockets, a three litres hydration reservoir sleeve, one large zippered compartment to store clothes, water, nappies, rain gear and other essentials underneath the carrier, and two pockets in the hip belt for easy access – and that's not it. There is basically another entire backpack on the back of the Sapling Elite, with two zip pockets and a stretchy mesh pocket that can be left attached to the Sapling Elite or removed and carried separately. Once removed, this will uncover yet another stretchy pocket on the back of the child carrier.
The Sapling Elite features a deployable sunshade which can also offer protection against light rain, dual access which allows you to load your child either from above or the side, and there's a handy little panel you can fold down and stand on to help you remove your child - a simple but useful feature, especially when travelling alone. The seat is well cushioned, with adjustable height, inner thigh support and removable, adjustable stirrups to let your little one rest their legs and readjust themselves on the trail. Impressive, right?
There are two things I would change about the Sapling Elite Child Carrier. The first it the kick stand; Thule recommend you open the legs out before removing the child carrier from you back, but there is no easy way of knowing if you have extended them far enough. An audible indicator would be useful here. The other issue is that all the padding and pockets on the Sapling get very warm; my back was soaked after wearing this for a couple of hours and the little one was also quite warm, so some extra ventilation would be a good addition.
Apart from that, the Sapling Elite is a great carrier with lots of storage, is easy to use and comfortable to wear - just pack a spare top if you are conscious about sweat stains. RRP £220
For Latest Price Click Below
4 out of 5
Pros
Lightweight
Lots of storage
Comfortable
Dual load
Deployable sunscreen
Fully adjustable
Cons
Warm
No indicator that the kick stand is fully extended