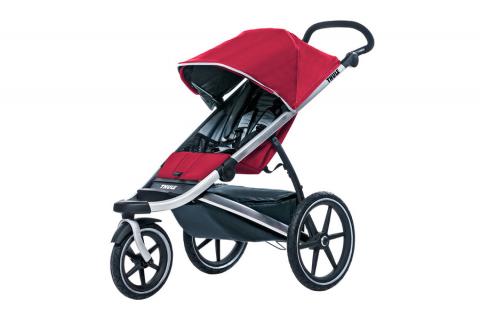 The Urban Glide from Thule is an all-round sports stroller - did you even know sports strollers exist? If, like me, you thought a stroller was just for transporting your child/shopping from one location to another, then think again!
The Urban Glide has been created to allow you to lock out the front wheel, so you can go jogging; you may struggle to see the positives over the negatives of running with a stroller and a demanding little person. However, you may be surprised to discover that as well as providing a good cardio workout with the extra weight and steering the stroller can tone up your arm and shoulder muscles too. Having the stroller in front of you can prevent over-striding, plus the extra storage option makes it easier to bring water, sunglasses, cake, or whatever you might need.
The Urban Glide has a slim profile and is light weight at 10.5kg and can pass through a door width of 65cm. Available in two colours: 'Mars' an attractive dark red and 'Dark Shadow' which is a modern and stylish grey. The front wheel swivels for easy manoeuvrability and can be locked into place when jogging. The ergonomic handlebar is comfortable to hold and height adjustable to accommodate different drivers, whilst the rear wheel has good suspension -  ensuring a smooth ride. The seat is padded with a vented top that reclines to a near flat position to let the little-one take a nap on the go. It will take children up to 34kg and meets all relevant safety standards with its 5-point harness. The Urban Glide also includes a convenient foot activated parking brake, a large storage compartment with zip-up water-resistant cover, multi-position canopy for added protection with a little window so you can see your child. You can also fold the stroller down and carry it with only one hand. The only downsides are that it is quite bulky when folded down (87.5 x 53 x 35cm) and in the most upright position, the seat is still slightly reclined. As for jogging with the Urban Glide, it is really good: the locked front wheel doesn't affect steering unless you go around a very tight corner, in which case you may need to raise the front wheel off the ground, but its lightweight makes this easily achievable.
For day to day use the Urban Glide handles very well, with good suspension and excellent build quality, a great choice for the active family. RRP £435.00
4.8 out of 5
Pros
Front locking wheel for jogging
Handles well
Lightweight
Good build quality
Comfortable suspension
Adjustable handle height
Fold down and carry with one hand
Foot brake
Cons
Bulky when folded down
Seat is still slightly reclined in its most upright position