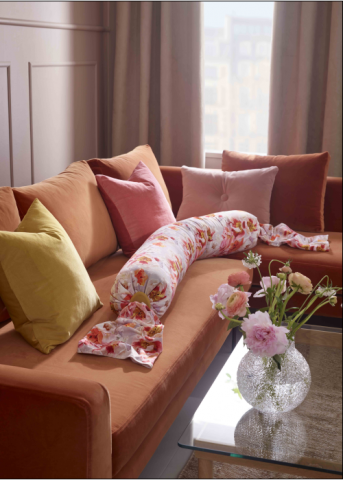 £153.00
As many women across the world may know, sleep and overall comfort during pregnancy can become a big problem as the pregnancy develops. However, even from taking a glance at bbhugme's latest pregnancy pillow, I can begin to feel myself travel to the land of nod.
Firstly, and most importantly, the pillow is extremely comfy. Being incredibly soft to the touch, it is almost like amalgamating a long bean bag and a luxurious memory foam mattress. Once you get your hands on it, you won't want to let it go!
Appearance-wise, the pillow comes in ten different colours and patterns, with an exclusive print if you're feeling extra fancy. Another little extra feature is the fact that both ends of the pillow are also secured by a toggle, which also provides a pop of colour. The only thing I would say is that you may need assistance to stretch the cover over the pillow, as it is a bit of a faff. This doesn't matter too much, however, as once you have covered it, you will find that it is perfect for a dreamy night's sleep. The pillow's long and dense shape means that it provides five points of body support if needed, as you can mould your body shape to it, which ensures maximum amounts of relaxation and an easy sail into sleep.
When you divulge into the pillow, you can find that the inner pillow is stuffed with Bio foam, which is Co2 neutral and non-hazardous. This means that it is hygienic and ensures optimum safety. 
Perhaps my favourite part of the entire pillow is that its purpose is very long-lasting, as you can still use it even when you aren't pregnant. This will be guaranteed bliss when you have to endure the upcoming sleepless nights…
4.8/ 5 stars
Pros:
- incredibly comfortable
- lightweight but dense
- easily mouldable to the body
- a variety of colours available
- deep sleep guaranteed
- can also be used when not pregnant
Cons:
- need help with cover