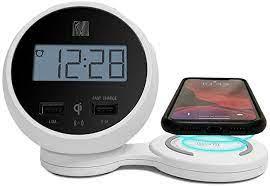 Soundfreaq - Charge Rise
www.soundfreaq.com 
 
Two essential bedside items in one, the Charge Rise from Soundfreaq combines an alarm clock and wireless phone charger.  Throw your phone down and have it charge overnight without needing to plug it in, and be able to easily see the time and deal with your alarm without having to faff with your phone then, either. Perfect! 
 
I don't know about you, but I'm forever twisting to grab my phone from my bedside table, unplugging it to set an alarm, check the time or have a final scroll of Twitter. Then, I've got to find where the wire's gotten to and plug it back in again before I can lay back down. The Charge Rise does away with all of that. 
 
There's a throwback feel to its clockface, giving me 2000s vibes with its rounded body and large digital display. However, this is combined with the extremely modern-detail addition of wireless charging for your Qi-compatible devices. This set-up is great as cutting out so much faffing around, and it does so with a charger that couldn't be easier to use, and a clock display that's extremely easy and accessible to read. It's even easy to adjust for daylight saving time – instead of needing to get into the time settings and move it forward or back by an hour, you only need to flip a switch! 
 
The alarm clock has every feature you would expect, skimping on nothing - snooze functions, one-off or regular alarms, alarm sounds gradually building up, a backlit display –  but enjoying the massive bonus of this charging pad. 
In case you're wondering whether this set-up will fit on your bedside table, the Charge Rise's measurements are 6.8" W/ 4.2" H/ 3.5" D, and the charging pad is rotatable to find an arrangement that works for you. 
Have some devices that aren't Qi-compatible? That's not a problem – the Charge Rise also has USB charge ports, allowing you to use it for all of your devices, not just a select few. This makes it ideal to use in your home, or, as Soundfreaq advertises it, it is also a great, universally useful addition to a hotel or Airbnb. 
Wherever you're looking to use it, this is a handy device that combines the old and the new, the classic with the super-modern.  It's helpful no matter your devices, great for either your room, a guest room or, as Soundfreaq correctly point out, somewhere available to the public.  
 
Available in black or white. 
 
4.5/5 
 
Pros: 
Wireless charging 
USB charging 
Fully functional alarm clock 
Easy to use 
Super convenient 
Charging pad rotates to fit table 
Regular or one-off alarms 
Not too large a footprint 
 
Cons: 
Charging pad is a little thick