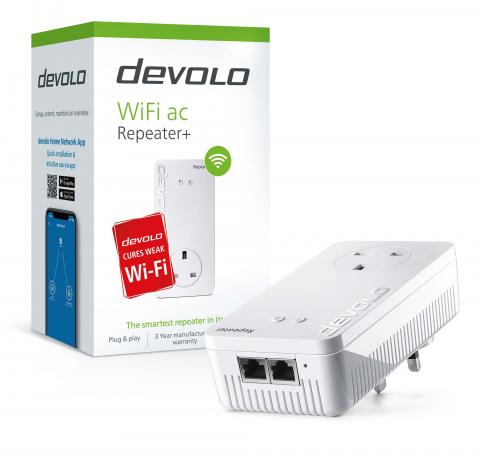 devolo WiFi ac Repeater+  
www.devolo.co.uk 
£59.00 
 
Having just moved house to the countryside, I am suddenly freshly, vividly aware of the trials of weak internet spots in your home. Back in the day, you could place the one family PC wherever the best internet reception was (actually, back in THAT day, the internet was still dial-up). Now, every room in the house needs good signal, because you'll be using it wherever you are: the TV needs it, your laptops need it, your gaming systems, your phones, every household gadget that uses a WiFi connection to talk to your apps...None of our modern style of living works properly if the internet is down! 

German company devolo produces a range of products to counter these issues, from products that provide a new, full-scale WiFi network to, in this case, ones that give your existing WiFi a much-needed boost in the right place. The devolo WiFi ac Repeater+ provides emergency relief when your WiFi signal is weak, extending your router signal to whatever part of the house it's struggling to get to. And it couldn't be simpler to use. 
 
That's what I really liked about this product – how quick and easy it was to use. When we're having WiFi troubles already, the last thing you want is a load of faff. Instead, this Repeater+ plugs straight into the wall, and then to connect it to the route, all you do is press the WPS button. As well as boosting the strength of your WiFi's signal, you can also plug in to the Repeater+ directly, via two LAN ports. To use it this way, you also need it connected to the router by a LAN cable, but that's as fiddly as it gets! 
The devolo WiFi Repeater is compatible with all WiFi routers, access points, and WiFi-capable devices. The boost can give you up to 1200 Mbps with cross-room Mesh WiFi. 'Mesh WiFi' means that the boost blends seamlessly with your existing WiFi – all passwords and settings apply, and you can effectively keep using your WiFi as normal (as opposed to tethering to a phone, say, which takes you onto an entirely different WiFi channel). The only difference you'll notice is that your WiFi is MUCH faster! 
We were able to use the WiFi boost easily from phones, laptops and a tablet, and it made a really notable difference. One detail that hadn't occurred to me, but I was glad to read about, was that this booster uses current encryption standards (WPA2/WPA3) to make sure that your data doesn't become unsafe when you use this WiFi. You don't need to worry that you're introducing a vulnerable back door to your connection. You don't even need to worry about taking up socket space – the device has its own mains socket on it that replaces the one it occupies in the wall! 
 
I've used signal boosters that didn't seem to make a notable difference, but this was different: you really could see the difference in connectivity. In part, this is because the booster uses 'beamforming' to shoot its boost directly to your targeted devices, rather than pumping it out to the room at large. It also uses crossband repeating to keep data transmission fast, on the 2.4 GHz and 5 GHz frequencies. 
Overall, I'm always worried that WiFi boosters are going to be a gimmick product that make little to no impact, but that wasn't the case with the devolo WiFi ac Repeater+ at all. If you're having WiFi troubles, this is a fast, simple and extremely effective solution. 
 
5/5 
 
Pros: 
Up to 1200 Mbps wireless LAN ac-reception 
Quick data transmission 
Encrypted and safe 
Two LAN ports 
Easy to install 
Doesn't use up a power socket 
Compatible with all routers