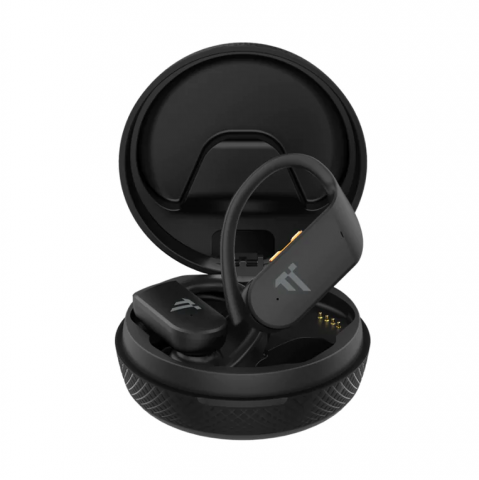 Dóttir In-ear ANC Headphones
www.dottiraudio.com
£127.00

In many ways, wireless headphones are fantastic for exercise – there's nothing to get tangled up in or to limit how you move. That said, some earbuds don't always feel the most secure: if I'm running or twisting to odd angles, I want to know that I'm not going to need to stop and fumble for an earbud in the middle of a workout. At best, it's annoying, but it could lead to losing a headphone or even injuring myself. So, when I tested the In-ear ANC headphones by Dóttir, I was thrilled at how secure they were.

These sports in-ear headphones have been designed with exercise in mind: sweating, sprinting, turning upside down – they have been prepared to withstand it all. Ear-hooks help them to stay in place securely, whilst their shape itself makes for a comfortable fit. The headphones arrive with 12 earpieces to choose from, allowing you to find the best fit for you. I'm quite fussy about whether I find headphones comfortable, but these were snug without being a bother. I was surprised by just how secure they were, until I found out that they were designed with cross-fit in mind by two women who know cross-fit well. With this varied and rigorous exercise in mind, these earbuds seem to be ready for anything – I certainly wasn't able to shake them loose!

Reassuringly, these buds also have an IPX7 Rating – a much higher water resistance rating than I'm used to finding in earbuds. Both sweat and waterproof, you can even wear these swimming to about a meter's depth for up to 30 minutes, if you were so inclined! The online drawback is that doing so will risk interrupting your Bluetooth connection – something Dóttir is working on – but in terms of waterproofing, it's completely safe! In comparison, sweat and rain are nothing to worry about. And, yes, they still stay secure when you're swimming!
Of course, whilst is all very interesting, the real question when it comes to headphones is, how is the sound quality? The Active Noise Cancellation works well, softening or completely cancelling out most of the ambient noise around you. This function can be turned on or off, to allow you to be more aware of your surroundings when you are crossing the road, for example. When you want it, however, you can block out almost anything except your audio. According to Dóttir, who went and quantified it, we're talking about 97.8% of background sounds. To quantify that another way, that's up to 35dB noise reduction. All I know, as someone who is easily bothered by unwanted sound, is that they worked like a dream.

Apart from when you're swimming, the Bluetooth connectivity works brilliantly, and calls are clear on both ends. The music, however, it where the audio really shines. I love a heavy bass, especially when working out, and thanks to their powerful 13mm dynamic drivers, these buds deliver. That said, they manage to balance the rest of the audio well – the highs and mids aren't drowned out, but come through lovely and clear.
The final test for me is always battery-life, because the number of times I let my wireless headphones die drastically counters how preferable I find them to wired options. However, these buds have 72 hours of listening time, so even I can't forget to charge them for that long!
 
All in all, these headphones are brilliant: if you're an active person who cares about keeping your headphones in your ears as much as you care about your tunes sounding good, then these score points in both columns and are well worth considering.

We received these buds in ash grey, but they are also available in white.

4.8/5

Pros
Secure fit
Ear hooks
ANC
Strong Bluetooth connectivity
Waterproof
Sweatproof
Won't shake loose
Wireless
Strong bass
Balanced sound
Clear voice in calls

Cons
Bluetooth connection is shaky whilst swimming, but you CAN swim! (For 30 mins up to one meter depth)