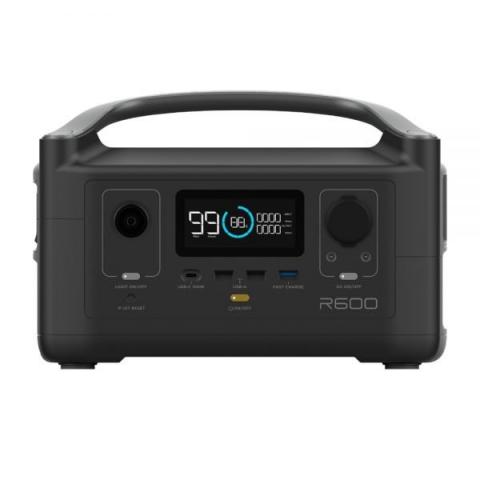 EcoFlow RIVER 
www.hampshiregenerators.co.uk
£379.00 
Once you begin to count them, there are a huge number of reasons you might need a portable power station. Camping, road trips, protection against power cuts, working as a tradesperson, getting power into that shed or basement without the cost of wiring it up: in a world that relies on power, it helps to have a source that doesn't rely on the grid. 
 
The EcoFlow RIVER is one of many such portable power stations from EcoFlow. Why 'Eco'? The best thing about these packs is that you're able to charge them with solar panels, making them an endless, clean source of energy. Alternatively, you are also able to charge them from the mains, and in both cases, the charge time is commendable. This beefy power station has a capacity of 288Wh, allowing it to power up to 600W devices in its regular mode, or 1800W devices with its X-Boost mode - in other words, items such as hairdressers, vacuum cleaners or lawnmowers! In total, it is able to provide roughly 25 hours of DC output, or 8.5 hours of AC, and it can handle up to nine simultaneous devices. 
 
Most such power stations can only handle 600W devices at their max, so that goes to show you how useful the RIVER is. For that kind of juice, I expected the RIVER to have a lengthy charge-time. However, from the mains, it only takes an hour to charge the device from 0-80%, and will only take 1.6 hours for a full charge. From solar panels, this takes three hours. Given that you get 15 hours of runtime for an average laptop with that, that isn't bad at all. 
Need more power? You can either upgrade to the 'max', which slots an extra battery into your existing model, or you can also connect multiple power units together to up its overall output time. 
Despite its level of whammy, the device is surprisingly small. The EcoFlow RIVER only weighs 5kg (or 7.5kg for EcoFlow RIVER Max). Whilst designed for use whilst camping or otherwise away from regular power, it is important to note that it isn't waterproof. One reason for that is the number of device ports it has over it; this battery has every kind of port you could possibly need integrated into it, meaning you'd needed worry whether your device is compatible. From phones to lampstands, the RIVER is ready to power it. 
 
A feature that I greatly appreciated in this product was its accompanying app. At first, I questioned why an app was needed, but in actuality, when you're replying on a portable battery to power your devices, you're going to be left with the nervous desire to check on your power status – or, I certainly was. Rather than needed to be up and down every few moments to check the screen on the RIVER itself, which showed a readout of usage and how much time I had left, I was instead able to check the same information on my phone, meaning I didn't need to get up at all. This is excellent for peace of mind if you would otherwise be checking too often or, alternatively, it makes checking so easy that you're less likely to decide 'out of sight, out of mind' and fail to check on your status until it was too late. 
 
All in all, whether you're going camping, planning to live on the road for a little while, or safe-guarding against power outages, the RIVER is an amazing power-pack. It can connect to almost anything, is fast to charge, can survive off-grid, and even works via an app for extra easy. I can't find a way to fault it. Just don't leave it out in the rain! 
 
5/5 
Pros 
Lightweight and portable 
Fast charge time 
25+ hours of power 
Expandable battery 
Connects to other batteries 
Chargeable with solar panels 
Most port types 
Can handle 1800W devices 
Up to 9 devices at a time 
Monitor on unit or via app 
Cons 
Not waterproof