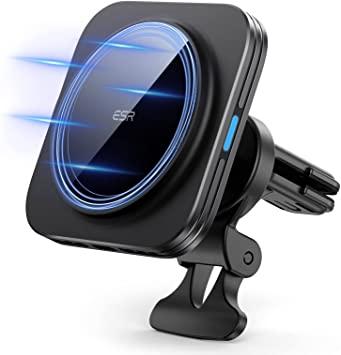 ESR HaloLock Magnetic Wireless Car Charger 
For iPhone 12 & 13 
£41.39 
www.esrgear.com 
 
Using a phone GPS in the car presents two issues – being able to see the thing, and hoping that your phone will keep its charge until the end of its journey! Between my housemate and I, we both have half of the solution: I keep my phone plugged in in the car, but that means it's down at my side where I can't see it; she has a mount that lets her look at her GPS, but notoriously runs out of charge right as she hits some confusing country roads that she's never seen before. 
 
The ESR Wireless Car Charger from HaloLock solves both of these problems in one. The charger is MagSafe compatible, whilst not an official MagSafe product itself. Watch out, Android users – this is compatible for iPhone 13/12 models only. For iPhone users, good news – you can use this stand through both MagSafe and HaloLock iPhone cases. We were sent ESR's Classic Hybrid Case with HaloLock in order to test the charger, and the two worked together without a hitch. The case itself is simple, see-through, and sturdy enough that it seems to live up to its claims of being protective. It doesn't scratch easily and you'd have to really try if you wanted to damage it, which is what we like to see! 
 
I was impressed by the speed of this product's charge, as well as how securely it held my phone and locked into place in my car. We live out in the middle of nowhere, with lots of deep potholes and twisty, bumpy roads, but my phone stayed in place throughout. I simply clipped the mount into the air vents and away we went. 
 
A detail that I appreciate is the ability to rotate your phone, allowing the best angle for whatever bit of map you're on. And, of course, I appreciate that my phone is charging as I use it!  
Take note – whilst these magnets are safe for your phone, they shouldn't be around your bank cards. Also take note that you'll need a 18W QC car charging adapter in order for the charging function to work. I happened to already have one, and you probably will too, but it's worth mentioning. 
 
If you fit this product's requirements, it's a fantastic tool that makes car life so much easier – and, let's face it, a lot of us spend a good deal of time in the car. Just be aware of whether or not your phone is compatible before you buy. As for your car, don't worry – the attachment to your air vents is a universal fit! 
 
4/5 
 
Pros: 
Secure hold 
Rotates 
Charges phone whilst holding it 
Universal air vent fit 
Fast charge 
 
Cons: 
18W QC charging adapter not included